No More Heroes Is Getting A Sequel On Nintendo Switch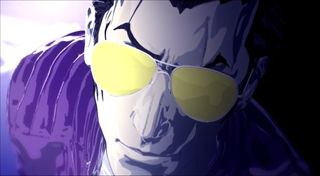 We knew that a brand new No More Heroes game was in the works. Suda51 had informed the gaming audience that Travis Touchdown wasn't done with Nintendo platforms back when Nintendo originally unveiled the Switch during a stage presentation. However, now we're getting to see the game for the very first time for Nintendo's newest generation gaming device.
The trailer was posted on the official Nintendo YouTube channel, featuring two whole minutes worth of promotional material.
Grasshopper Manufacturer's trailer starts with an old muscle car zooming down the highway as a masked man with a bunch of soda cans around his waist says "Charlotte, I'll see you soon enough!"
The man drives up to a trailer with a 20th Anniversary Marvelous Entertainment logo on it -- the same publishers who distribute the Senran Kagura games -- and goes inside. He has a baseball bat in hand and prepares to swing it at a man sitting on a couch playing Devolver Digital's Hotline Miami.
In typical Suda51 fashion, the No More Heroes trailer is laced with all sorts of in-jokes and pop-culture references. As the old man takes a swing at the figure on the couch, it's revealed that it was just a decoy and the real Travis Touchdown was waiting behind him. The looming plot element of assassins hunting assassins, similar to Afro Samurai, still seems to be present in this latest No More Heroes for the Nintendo Switch.
However, this time around, Travis' smart mouth and smarmy attitude gets put into check, when the old man reveals that he's the father of Charlotte, one of the assassins that Travis previously killed.
During this startling revelation for Travis, we get a nice freeze frame of the t-shirt he's wearing: It's an Unreal Engine shirt.
The trailer takes time out to let us know that Grasshopper Manufacturer is building the game on the Unreal Engine 4, which completely threw me for a surprise because I never would have guessed that you could have pulled that kind of lighting, shader rendering, and visual style out of the Unreal Engine. It's a true testament to the talent working at Grasshopper.
We then finally get to see the official title logo of Travis Strikes Again: No More Heroes. It's obviously a sequel, but the title makes it seem like it's a standalone or a reboot of the series.
Grasshopper Manufacturer is currently working with Marvelous Entertainment and Shurigumi Animation Studio on the game, along with DJ Fujutake on the soundtrack. It seems like there may be some tie-in with Dennaton Games' Hotline Miami as well. It seemed like a weird thing to include in the trailer, so maybe there's going to be some kind of Devolver Digital crossover? Who knows... it's Suda51.
The stylish trailer has a lot of gamers abuzz and it definitely showcases a different side of the Nintendo Switch's graphical capabilities. No release date was revealed yet, but we'll let you know as soon as it has one.
Staff Writer at CinemaBlend.