NBA 2K18 Will Require An SD Card On Nintendo Switch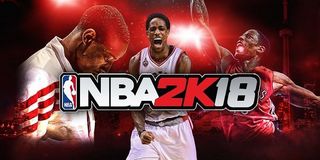 If you're looking forward to picking up NBA 2K18 for the Nintendo Switch and haven't picked up a MicroSD card yet, you might want to go ahead and make that a top priority. Even if you purchase a physical copy of the game, updates are going to consume all of the console's on-board storage.
Over on Gameinformer, they've tracked down final numbers for NBA 2K18 concerning storage space, and it's a bit surprising. We had heard last month that you would basically need a memory card if you wanted to play the game, but now we know exactly how much space it is going to take up.
If you download the latest basketball game from 2K, you'll be giving up 6.8 GB for that initial download. Once that's done, the game requires a 16.1 GB download for additional software. Finally, the save file for the game requires 5 GB. In other words, if you choose to download the game, you'll need about 28 GB of space on the Switch. Since the Switch only boasts 32 GB of flash memory and that's actually closer to 26 GB once you boot up the system, you can see why there's pretty much no other option than to just buy a card. As the original story points out, buying the game physical is only going to spare you 7 GB from the initial software download, so you'll still be topping out the console's storage.
Thankfully, Nintendo chose to use MicroSD cards rather than some BS proprietary cards like Sony did with the Vita. Sure, MicroSD cards can still be pretty expensive at the higher capacities but, given the way Nintendo has been pricing things these days, we shudder to think about how much a specialized Switch memory card would cost.
This is, of course, one of the costs of modern gaming, and why the Xbox One X and PlayStation 4 Pro come with 2 TB of on-board memory. It's great that the Switch can play almost direct ports of these modern games, but that means some of Nintendo's long-time fans are going to have to get used to a few changes. I mean, a 32 GB card could have lasted you a lifetime on the Nintendo 3DS. If you're planning on playing bigger Switch games, you clearly need to get the biggest card size you're comfortable with. As NBA 2K18 is proving, even if you don't plan to "go digital" with your Switch, modern games can still take up a heck of a lot of space even when they're purchased in a physical format.
That's certainly got us thinking about upcoming games from Bethesda, like Skyrim and DOOM, which we wouldn't be surprised to see take up even more space than NBA 2K18.
Staff Writer for CinemaBlend.
Your Daily Blend of Entertainment News
Thank you for signing up to CinemaBlend. You will receive a verification email shortly.
There was a problem. Please refresh the page and try again.