Simpsons Fans Are Trying To Make A Hit & Run Sequel Happen At Rockstar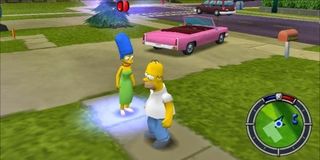 (Image credit: Vivendi Universal)
Fans still have a soft spot in their hearts for the 2003 outing of the action-adventure game The Simpsons Hit & Run for the OG Xbox, PlayStation 2 and Windows PC. In fact, the soft spot has become so tender that gamers decided to do something about it and attempt to make a sequel happen at Rockstar Games.
There's currently a petition over on Change.org where Hassaan Mohammad is requesting either Rockstar Games or Activision Publishing to make a sequel to The Simpsons: Hit & Run. The petition currently has just over 700 supporters.
In the letter, Mohammad mentions that the game originally came out back in 2003 and was a "huge success" at that time, managing to move 3 million SKUs over the course of a four year period across three platforms.
He mentions that the 3D graphics, sandbox gameplay, and fun controls made it a game many people could pick up, play and enjoy without any hassle. He hopes that a sequel could be made where players get to control other characters from the series, including Flanders, Grandpa, Otto, Dr. Hibbert, Chief Wiggum, Krusty and more. He suggests that more attacks be made possible instead of just a kick, possibly closer to the likes of the fighting in the newer GTA games, and that the developers should keep it family-friendly enough for a 12+ or Teen rating from PEGI and the ESRB.
Obviously he suggests improving the graphics for today's home consoles such as the PS4 Pro and Xbox One X, and making it so the game supports more than just seven levels. He also hopes that the sequel could be in a true open world instead of being sectioned off like in the original Simpsons: Hit & Run.
He mentions that "public demand" definitely warrants a sequel, and he's shocked it hasn't happened yet. The petition is basically a way to help spread the word to get more people to sign and hope that Rockstar and Activision jump on the opportunity.
The original game was published by Vivendi Universal, a former parent company of Activision, and the game was developed by Radical Entertainment, a former studio under the Activision label. Things have drastically changed since then, and there's no real telling who still owns the rights to Hit & Run. Activision would also likely have to go back to Fox to renegotiate a deal.
Rockstar, meanwhile, hasn't really had interest in licensed properties for quite some time. The studio has been heavily focused on blockbuster franchises like GTA V and the upcoming Red Dead Redemption 2.
That's not to mention that in today's market most AAA games target 3 to 5 million in sales during the first eight weeks of the game being on the market. It's unlikely that Activision or Rockstar are all too interested in a franchise that might move 1 million units a year.
Even still, it's a fun idea that gamers want to see a sequel to the sandbox Simpsons game. Will it ever happen? It's highly unlikely, but, then again, you never know until you try.
Staff Writer at CinemaBlend.
Your Daily Blend of Entertainment News
Thank you for signing up to CinemaBlend. You will receive a verification email shortly.
There was a problem. Please refresh the page and try again.