Microsoft Responds To Street Fighter 5's PS4, PC Exclusivity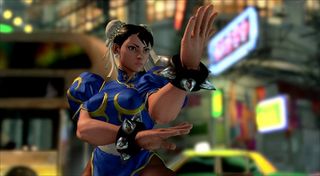 If you were hoping to play the newest Street Fighter game on the Xbox One, think again. The game isn't coming to Microsoft's home console... at all. The news has echoed throughout the gaming community with a lot of chatter about what Microsoft will do in response to this. Well, Microsoft has responded.
Game Informer spotted Tweets from the head of the Xbox division, Phil Spencer, who responded to the news that not only was Street Fighter V coming to the PlayStation 4 and PC, but that the game was not a timed exclusive... it's a platform exclusive.
Spencer, across a series of tweets to fans, stated that...
It's easy to think that Sony one-upped Microsoft on the Street Fighter deal with Capcom. However, take note that Microsoft originally pulled the exclusivity card with Killer Instinct after they acquired Rare.
I suppose an argument could be made about the brand worth of both fighting franchises, given that Killer Instinct was never quite as big as Street Fighter. Heck, the latter managed to get a full motion picture starring Jean-Claude Van Damme.
Having Sony take hold of the Street Fighter franchise – or at least, Street Fighter V – is a pretty big victory. In the gaming world, Capcom's premiere fighter is ubiquitous, and now everyone will either have to purchase a PC or a PS4 to get their hands on the newest iteration of the title.
But it's not just Street Fighter that Sony has secured as a form of exclusivity. The company managed to work out a deal with Bohemia Interactive for DayZ, and also went out of their way to get first dibs on No Man's Sky. These exclusivity deals come about following Sony's big bid for the indie sector, which saw the company adopting more than a thousand studios compared to Microsoft's 250, at the time.
What this means is that Sony is making a multi-front attack on the AAA business and on the indie side with exclusivity deals. One of the major problems is that Microsoft doesn't seem to be offering much in the way of resistance and right now the only two major games that seem to have any marketing attention for the Xbox One is Quantum Break and Halo 5: Guardians.
Of course, if you aren't a fan of shooting games and you're looking for some good fighting titles, it looks like the PlayStation brand is the one to go with. In addition to having Street Fighter V and Tekken 7 on the horizon, Sony also managed to get dibs on the visually stunning Unreal Engine-powered Guilty Gear Xrd Sign for the PS3 and PS4, as well as the Persona Arena titles.
Your Daily Blend of Entertainment News
Staff Writer at CinemaBlend.