Everything New In Danger Zone For The Xbox One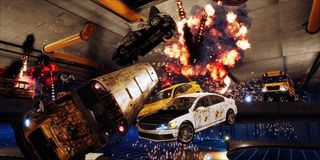 (Image credit: Three Fields Entertainment)
Three Fields Entertainment's Unreal Engine-powered race-and-crash destruction game, Danger Zone, recently received an update for the Xbox One and preemptive enhancements set to be made available for the Xbox One X version of the game.
In the press release the developers explained that there are 32 brand new crash test scenarios for players to conquer and play through, and each of these scenarios also sport different times of day, so they should have slightly different looks depending on the settings.
In addition to all of the new crash test scenarios, there are also five brand new player cars to choose from, including a Coupe, a Supercar, a Taxi, a Cop Car and a Formula One racer. This brings the total playable vehicles to six.
The press release also mentions that the developers have overhauled the traffic AI behavior, so that there are now different types of traffic conditions, reactions, and even behaviors centered around how traffic reacts and panics to player actions.
Over on the Xbox News Wire (opens in new tab), Three Fields Entertainment's CEO, Fiona Sperry, explained that there are also special enhancements being made for the Xbox One X version of the game, including running at native 4K but only at 30 frames per second. Additionally, you'll also have the choice of playing the game at 1080p and 60 frames per second on the Xbox One X for those of you who don't have a 4K display but are still rocking the 1080p screens.
In addition to the resolution buff for Danger Zone, the developers have also revamped the smoke effects, the particle effects, the post-processing and performance. This also ties into the vehicular deformation system present as well, enabling cars to lose doors, trunks, hoods, glass, and more, as players ram, crash, smash, shunt, bump, and explode their way through crowded lanes of traffic.
Essentially, Danger Zone is a mode themed around Burnout 3's Crash Mode, where players would attempt to cause as much damage and destruction as possible in order to rack up as many points as possible.
While Electronic Arts had Criterion move away from the Burnout series, and the studio is now helping with games like Star Wars: Battlefront II and the vehicle handling and physics, some of the former alum from the studio have gone on to form Three Fields Entertainment and to focus on creating a Burnout-like experience with the budget-priced action-racer, Danger Zone.
The game strips away the whole racing aspect that was present in Criterion's title, and focuses more on the party-game elements that the series became renown for. Whether or not that will be enough to sustain interest for the series on home consoles is still up in the air.
Danger Zone sports easy-to-drive cars, leaderboards, and plenty of crash-test scenarios for those of you interested in causing motorized mayhem and destruction. The game originally came out this past spring on Steam for PC, but you can pick up a digital copy of the crash-test racer for Xbox One and for the Xbox One X from the Xbox Store.
Your Daily Blend of Entertainment News
Staff Writer at CinemaBlend.
Your Daily Blend of Entertainment News
Thank you for signing up to CinemaBlend. You will receive a verification email shortly.
There was a problem. Please refresh the page and try again.