What's Coming With The Friday The 13th Update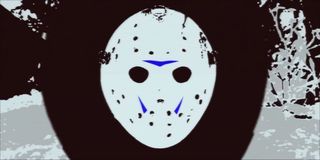 (Image credit: Gun Media)
There's a brand new update set to arrive for Friday The 13th: The Game that will introduce a brand new mode and some other unique new content for the asymmetrical multiplayer horror game. The latest update is part of the ongoing roadmap of development for the game and aims to bring something new to the fold.
Gamespot is reporting that one of the new features in the update is the brand new mode called Paranoia Mode. The mode has no release date but it arrives shortly after Illfonic added the new map that takes place at Jarvis' house, as well as a new counselor, and a new skin for Jason.
The update could have laid the groundwork for this new Paranoia Mode that's currently on the roadmap for release. A 48 second teaser trailer was released featuring 1960s style psychedelic effects and a collage of showcasing various camp counselors along with weird after-effects taking place throughout the trailer.
The trailer appears to take place around the current map, but it will apparently feature all the counselors, including the newest counselor, Mitch Floyd.
You can check out the trailer below, but it doesn't offer any details on the mode itself or what you can expect from the upcoming feature for Friday The 13th: The Game.
Now in the description box, Gun Media did reveal that the song featured in the trailer is called Suspiria Theme and it's from the band called Goblin. The song was originally released back in 1975.
There's also a hashtag attached to the trailer: #whoisfiVe.
I'm not entirely what that means but the Friday The 13th: The Game community have begun putting together theories about what it could be about. Some think it has to deal with Friday The 13th: Part 5, which was one of the most off-the-wall versions of the series given that it focused on Tommy Jarvis going crazy after his encounters with Jason Voorhees.
The psychological-horror theme of Friday The 13th: Part 5 was more about the paranoia of Tommy Jarvis and the fear of another masked, hockey-wearing murderer terrorizing people. This has led some gamers to believe that the new mode will be more like the Garry's Mod game mode called Terrorist Town, where one of the players is sabotaging the team because they're a terrorist, and others have to discover who they are. If that is the case then it could make for a truly interesting gameplay experience.
Many other games are just hoping that eventually, Illfonic and Gun Media will release the single-player portion of Friday The 13th: The Game, which was promised way back during the Kickstarter campaign. For now, however, expect to see the Paranoia Mode make its debut, likely at some point around Halloween.
Your Daily Blend of Entertainment News
Staff Writer at CinemaBlend.