How Long Call Of Duty: WWII's Single Player Campaign Will Take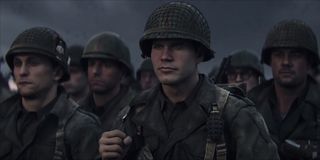 (Image credit: Activision)
One of the big topics of discussion for the annual Call of Duty outings each year is whether or not the campaign modes are lengthy and exactly how lengthy are they. Well, as usual, the numbers are in and gamers have recently found out how long Call of Duty: WWII's single-player campaign will take to beat.
Gamespot is reporting that after playing through the entire campaign on the Normal difficulty setting, it took the reviewer six hours and 23 minutes to beat the game in full. That's about two hours more than Call of Duty: Ghosts' campaign, and around the same amount of time it takes to beat Call of Duty: Black Ops 3. It's also about an hour longer than Call of Duty: Advanced Warfare, which averaged around five hours in length.
Now, some of you might be wondering where this fits in with last year's outing from Infinity Ward, Call of Duty: Infinite Warfare. While the game starred Game of Thrones actor Kit Harrington, it had a really tough time luring in gamers due to the fact that a lot of the community was future-fatigued and it received a lot of negative feedback while Battlefield 1 received a lot of positive feedback leading up to release. The actual campaign, however, was quite varied and at its shortest you could beat the game in about four hours straight. However, this was the first Call of Duty game that also offered gamers additional side-quests and missions that not only fleshed out the story but also offered players additional opportunities to upgrade their gear, thus pushing the overall playtime up to around six to seven hours long depending on how good you were at navigating the zero-G maps.
Nevertheless, a decent sized single-player campaign on normal at six hours isn't bad at all. This is also interesting because Bethesda and MachineGames just recently released Wolfenstein II: The New Colossus last week and the campaign clocked in at around six hours.
The big difference here, though, is that Call of Duty: WWII isn't all that thick with cinematics. Don't get me wrong, the game still has plenty of cinematic sequences, but a large portion of the playtime will actually be condensed into playing the game, not watching cinematics for a large portion.
Some people have criticized the series on two fronts: some say Activision should just abandon the single-player campaign altogether and just focus on the multiplayer. Others say that Activision should put more effort into the single-player campaign and make it longer than four to six hours.
Various people have their own interpretations on what should be in a Call of Duty game, but the reality is that the millions of people who buy the games each year like it for different reasons. Some people only play the single-player while others only play it for the multiplayer.
Additionally, the single-player helps Activision inch closer to those GOTY awards so that it can unleash a GOTY edition of the game down the road. It's a little difficult to retain the attention of critics with just a multiplayer-only game, even though Blizzard did manage to pull off such a feat with Overwatch last year. However, Call of Duty is not Overwatch.
You can pick up a copy of Call of Duty: WWII starting from today for the PS4, Xbox One and PC.
Your Daily Blend of Entertainment News
Staff Writer at CinemaBlend.