Resident Evil: Revelations On Nintendo Switch Shows Off Motion Controls In New Trailer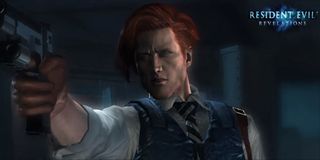 Capcom is gearing up for the release of Resident Evil: Revelations on the Nintendo Switch. Both Resident Evil: Revelations 1 and Resident Evil: Revelations 2 are coming to the Switch and the company showcased the motion controls in action with a new trailer.
The trailer was posted on the official Resident Evil YouTube channel, featuring two whole minutes of gameplay, and demonstrating what Nintendo Switch owners can expect from the game when it becomes available at the end of the month on November 28th.
The trailer starts by first giving a brief overview of the game's thrills and then it moves into the different modes of play available on the Nintendo Switch, including playing in TV mode, portable mode, and tabletop mode.
You can use the controls in the standard dual-analog position, or on the side of the Switch, or as individual Joy-Cons in the wireless motion-controlled setting.
If you like playing games the standard way, you can use the Joy-Cons on the controller dock and play using the standard method just like you've always played Resident Evil games. This means the left and right analog control the character and the view, while the face buttons allow you to interact with the environment, and the triggers allow you to aim and shoot.
Alternatively, the video showcases how you can use the right Joy-Con to aim at the TV or the Switch (if it's in tabletop mode) and press the trigger fire. The video suggests using the wrist-straps and the gyroscopic aiming to fire weapons and perform attacks. One highlight of the Nintendo Switch is that the Joy-Con motion sensors are about as accurate as the HTC Vive and Oculus Rift's wireless motion controllers, which absolutely surprised me after getting in time with the devices. So, for those of you worried about the accuracy of the motion detection in a game like Resident Evil: Revelations, I can vouch for the Joy-Cons being a great alternative for motion-based aiming.
You can also use both Joy-Cons to reload your weapons. Performing a reload-style motion with your left and right hand will allow you to reload your weapons. The same applies for performing melee attacks, where you can swipe and swing in the direction of the screen to perform knife strikes and melee attacks.
You can also fend off attackers by shaking the Joy-Cons rapidly to get them off your character.
Alternatively, you can separate the Joy-Cons and play co-op mode using only one set of Joy-Con controllers in Resident Evil: Revelations, which is great for people who want to play local co-op.
The Switch also has support for Amiibos, so you can unlock additional bonus items. This is in addition to additional costumes, Raid Mode stages, and playable characters.
Your Daily Blend of Entertainment News
Staff Writer at CinemaBlend.