The Most Downloaded PlayStation Games Of 2017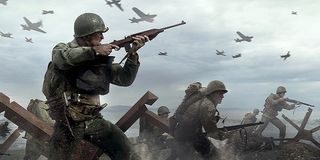 It was a big year for video games, with some games having an even bigger year than the rest of the pack. Sony has recently released a list of its best digital performers, featuring PlayStation 4 titles, add-ons, PSVR games and more.
Over on the PlayStation Blog, Sony has posted a ranking of the top online performers for the past 12 months. Again, these lists are based on downloads only, and don't take into account total revenue. Still, it gives us a good idea of what some of the most-played games on PlayStation 4 were this year, including expected over-achievers and even a couple surprises.
Below are the top 10 downloaded games from the PlayStation 4, as well as the top five games for PSVR and Vita. We'll also throw in the top five PlayStation Classic titles and top five add-on downloads. Here we go.
PS4 Games
1. Call of Duty: WWII
2. Destiny 2
3. Friday the 13th: The Game
4. Horizon Zero Dawn
5. Grand Theft Auto V
6. NBA 2K18
8. Minecraft: PlayStation 4 Edition
9. Madden NFL 18
10. Tom Clancy's Ghost Recon Wildlands
PS4 Add-Ons
1. Call of Duty Black Ops III: Zombie Chronicles
2. Destiny 2 -- Expansion Pass
3. Call of Duty: WWII Season Pass
4. Horizon Zero Dawn: The Frozen Wilds
5. Battlefield 1 Premium Pass
PSVR Games
1. Job Simulator
2. Superhot VR
3. PlayStation VR Worlds
4. I Expect You to Die
5. Batman: Arkham VR
PS Vita Games
1. God of War: Collection
2. Adventure Time: The Secret of the nameless Kingdom
3. Jak and Daxter Collection
4. Minecraft
5. Persona 4 Golden
PS Classics
1. Grand Theft Auto: San Andreas
2. Bully
3. Twisted Metal: Black
4. Grand theft Auto: The Trilogy
5. Destroy All Humans
The first couple of top games on the PS4 are no big surprise, as the latest CoD has already been dubbed the highest selling game of the year, and Destiny 2 was bought by dang-near everyone. Friday the 13th, though, was a bit of a surprise at the number three spot. We figure being digital only helped it along in this category but, still, it's great to see so many people are interesting in playing this Kickstarter darling.
The add-on category was less surprising, featuring supplemental content for some of the year's biggest games. Black Ops III Zombie Chronicles taking the top spot just goes to show how many people really enjoy that particular game mode.
As for the PSVR crowd, another crop of usual suspects leads the charge, though I was bummed that Starblood Arena was nowhere to be seen on the entire list. It's easily one of the best VR experiences out there and nobody seems to know about it. Luckily, it's free if you have Plus throughout the month of January. Seriously, go pick that up.
So what are your thoughts on this year's lists? Anything surprise you? Anything missing that should have gotten more attention? Let us know in the comments below.
Staff Writer for CinemaBlend.
Your Daily Blend of Entertainment News
Thank you for signing up to CinemaBlend. You will receive a verification email shortly.
There was a problem. Please refresh the page and try again.