The Dragon Ball FighterZ Beta Is Having Problems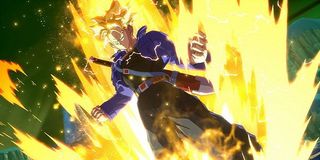 If you missed out on the Dragonball FighterZ beta this past weekend, your experience wasn't all that different from the people who were actively trying to participate. Servers apparently weren't up to snuff and, according to the publisher, this could result in an extended playtest heading into the week.
Over on the Bandai Namco Facebook page, the DBFZ publisher has released a statement concerning this weekend's server issues. They start out by thanking folks who attempted to participate, as well as their valuable feedback. Based on what we witnessed ourselves over the weekend, we imagine the feedback was almost exclusively, "Hey, so, I can't get online at all."
Bandai Namco states that the team is working to correct the issues and optimize the beta but, unfortunately, it turns out the issue isn't one that could be fixed quickly. For everyone still fuming, please keep in mind that this is exactly why betas exist. It's easy for us to crack jokes here but, in the long run, we'll take a borked beta if the results help the team create a more stable final product.
In case you just really, really wanted to get in some DBFZ matches before the Jan. 26 launch date, Bandai Namco goes on to explain that the current beta will remain online for the time being as they work to roll out a new server update. The publisher also stated that, if the problems can't be addressed "within a decent amount of time," they may actually extend the beta in order to keep hammering out the issues.
Comments from the community range from good-natured to seriously frustrated. Since there were two closed betas previously, folks seem confused as to why Dragon Ball FighterZ would take such a huge hit to stability now. In Bandai Namco's defense, we figure the much larger crowd of would-be players has something to do with it.
I tuned in to a couple of streams over the weekend to see what folks thought about the game and witnessed some of the frustration firsthand. Most folks I saw were either tooling around in the game's chibi hub world or taking on a handful of solo challenges. I heard multiple people state they only got in a few matches throughout the entire weekend due to the server issues. If there's a silver lining, it's that they all seemed to really enjoy the game when it was working.
The major issue is that three big games are coming out on top of each other, with Monster Hunter World launching the same day as the new Dragon Ball fighter and Dissidia arriving four days later. Those other games also had betas running this weekend, only participants were actually able to play them. Stuff like that might play into folks' purchasing decisions in the next couple of weeks.
Staff Writer for CinemaBlend.
Your Daily Blend of Entertainment News
Thank you for signing up to CinemaBlend. You will receive a verification email shortly.
There was a problem. Please refresh the page and try again.