Check Out Dragon Ball FighterZ's Opening Cinematic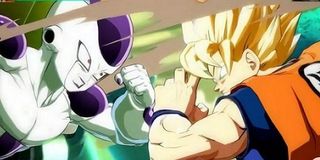 Set to arrive on Jan. 26, Dragon Ball FighterZ is set to take the fighting world by storm in the new year. If you need a little extra hype heading into the home stretch, Bandai Namco Entertainment America has offered up a look at the game's opening cinematic.
Lots of flashy fighting? Check. Pulse-pounding music? Check. A fast and frantic look at a cast of beloved characters? Check. The Dragon Ball FighterZ opening cinematic has everything you need to crank a fighting fan's hype-o-meter up to 11. And given that the game arrives in just under a month, Bandai Namco chose a great time to roll it out for everyone to enjoy.
Not to get too hyperbolic here, but the early buzz seems to be that this latest brawler from Arc System Works is the next big fighting game genre vets have been waiting for. It's been playable in various forms for months now, and we've only heard positive reactions from those who have had hands-on time with the game.
Speaking personally, this is something of a dream game for me. I adore ASW fighters like BlazBlue and Guilty Gear and I grew up watching the various incarnations of the Dragon Ball series. Put those two things together and we've got what I call a match made in heaven.
Arc actually released a Dragon Ball fighter for the 3DS a couple of years back, which has me wondering if that maybe that was treated like a warm-up for the more fleshed-out romp that's now headed to PlayStation 4, Xbox One and PC.
Some of the loudest praise we've heard for the game so far is how much it emulates the look and feel of the series, which is actually in the midst of a new run, Dragon Ball Super. Modern hardware has allowed the developers to perfectly capture the aesthetics of a flashy anime, which makes for some impressive battles.
As for the roster, DBFZ pulls from the entire history of the series with a heavy emphasis on Dragon Ball Z and Super. We've got series staples like Goku, Vegeta and Trunks, all of which are available in different forms. Krillin, Nappa and Piccolo are along for the fun, alongside villains like Cell, the androids and a couple different versions of Buu. The newest Blue versions of the Super Saiyans are present and accounted for, too. The plan is to flesh out the list even further post-launch with the inclusion of about half a dozen DLC characters.
This leaves us with only one question: Who decided to release this game the same day as Monster Hunter World? We imagine there are quite a few folks out there who love both of these series, and now they've got to try and decide where to funnel all of their free time first.
Your Daily Blend of Entertainment News
Staff Writer for CinemaBlend.