Nintendo Labo Lets Your Kids Build Cardboard Toys With The Switch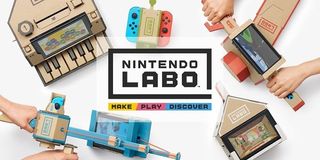 Nintendo teased an announcement earlier this week that would reveal a "new way to play" with the Nintendo Switch. Then Nintendo Labo was revealed yesterday, and it's the most Nintendo thing we could possibly imagine. Get ready to enjoy some heavy duty papercraft.
Proving once again that Nintendo is the biggest wild card in the industry, yesterday the publisher revealed a line of games and accessories that will task participants with crafting their own cardboard peripherals. It's called Labo, and it's very clearly aimed at tapping into the STEM movement (Science, Technology, Engineering, and Mathematics) that's sweeping the world. Parents want their kids to be more critical thinkers and take part in projects that are a little more "involved" than your typical video game marathon session. Nintendo has now asked the question, why not do both things at the same time?
Rather than produce a metric ton of plastic peripherals, Nintendo has instead created bundles of cardboard peripherals players need to put together themselves. That's all part of the educational process, as Labo is clearly designed with youngsters in mind. While the Switch game will walk them through the instructions of putting their various devices together, they'll get hands-on experience crafting small contraptions that help them understand how they actually work. That will hopefully spark a curiosity about how other things work and, boom, we've got a generation of engineers on our hands.
So once the kid has punched out the cardboard components and followed the on-screen instructions to build these crazy contraptions, what comes next? They play with them, obviously. The same cartridges include applications that make use of the various cardboard devices you'll be making. One device uses the Joy-Con's IR camera to let you play a piano while the other utilizes the rumble feature of both controllers to create a walking robot. One of the contraptions is a telescoping rod and reel that you can use to play a fishing mini-game, while another turns you into a wall-punching robot.
The first two Labo kits will be available on April 20, and they cost a bit more than a standard game due to all of those extra cardboard components. The Variety Kit will set you back $69.99 and includes the Toy-Con RC Car, Fishing Rod, House, Motorbike and Piano. The Robot Kit is pretty massive and will set you back $79.99. Again, the cartridges with the various applications and instructions are a part of each package. In case you want to get extra creative, they'll be selling extra packs with stickers, stencils, tape and the like for 10 bucks when the kits launch.
While these kits certainly aren't for everybody, we imagine they'll be a big draw for a certain kind of youth who enjoys things like LEGOs, robotics or just crafting projects in general. They also prove Nintendo hasn't stopped thinking outside the box, quite literally in this case.
Staff Writer for CinemaBlend.
Your Daily Blend of Entertainment News
Thank you for signing up to CinemaBlend. You will receive a verification email shortly.
There was a problem. Please refresh the page and try again.