Battlefield 1 Is The Latest Game To Take On Cheaters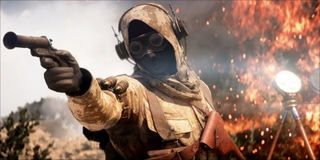 (Image credit: Electronic Arts)
Several developers are currently fighting against cheaters in online multiplayer games. It's become a staple for some studios due to how much the success of an IP depends on keeping the cheaters at bay. Well, DICE and EA are the latest to join in on publicly denouncing cheaters and publicly announcing new ways to tackle cheaters in Battlefield 1.
Over on the official Battlefield website, there's a post from DICE's Sean Merson from the anti-cheat division, who explains how the team is working to make the environment in Battlefield 1's online offerings more "secure" for its players.
The post is more like a State of the Union address for Battlefield players, starting off by explaining that DICE has been ramping up its efforts to deal with cheaters over the last six months. Utilizing new anti-cheat tools and technologies in collaboration with FairFight saw more than 8,500 accounts get sanctioned in October of 2017 alone.
DICE plans on elevating the FairFight system so that there will be a new messaging system in which clarity and transparency will be a top priority in communicating when people are getting banned from cheats. There used to be a messaging system in Battlefield 1 for FairFight but it was cluttered and cumbersome, so it was removed.
Interestingly enough the post also discusses false-positive results from the FairFight system. While Merson makes it known at the top of the post that there won't be any details given away to give cheaters any sort of leverage to game the system, he does state that the FaitFight system does not base its sanctions or data capturing solely on match stats. This was to address the concern that DICE saw online where people had been complaining that FairFight might target them for being too good in the game and that highly skilled players might end up getting unfairly banned. The post states that this is not the case and players with skills in the upper tier are not being unfairly targeted by the anti-cheat tools.
Of course, the manual reporting system still works as intended. If you feel a player is cheating in Battlefield 1, you can most certainly report the suspected cheater manually to DICE for potential sanctions to be carried out against the account if they are indeed found to be cheating.
DICE and EA state that efforts to curb cheating will continue, and the tools will continue to improve.
This comes after lots of backlash had been levied at PUBG Corporation for not doing enough to curb cheaters in PlayerUnknown's Battlegrounds, where large portions of the community are reported for cheating but the company has been slow to fix the issue. This has created a rather toxic community in PlayerUnknown's Battlegrounds, and forced the Chinese publisher Tencent to take drastic measures in having cheat distributors arrested. Epic Games also decided to start suing cheaters in the game Fortnite to curb the cheating epidemic.
EA and DICE certainly aren't going to those lengths to stop the cheating in Battlefield 1, and are instead using tried and true methods of anti-cheat tools and old-school reporting to find the cheaters among the player base.
Staff Writer at CinemaBlend.
Your Daily Blend of Entertainment News
Thank you for signing up to CinemaBlend. You will receive a verification email shortly.
There was a problem. Please refresh the page and try again.