When The Mega Man Legacy Collections Will Arrive On Nintendo Switch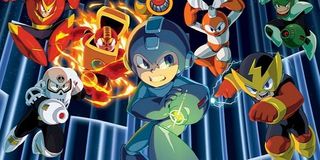 While the Nintendo Switch eShop is still a no-show a full year into the console's life cycle, at least fans will soon be able to get in some classic Mega Man action via a pair of Legacy Collections. According to Capcom, the Blue Bomber will be ready to roll on Nintendo's newest hardware come May 22.
This news comes to us direct from the Capcom blog, where Kellen has rolled out all of the details for both Mega Man Legacy Collection and Mega Man Legacy Collection 2. While both of those collections are available on other platforms, the Switch versions will introduce some new features that are sure to please fans old and new alike.
For those looking to pick up Mega Man Legacy Collection, it includes the first six titles in the collection that originally launched on the Nintendo Entertainment System. The ability to create save states means these notoriously difficult games should be a little less punishing this time around. There's also an instant rewind button, letting you take back any infuriating deaths that would otherwise ruin your perfect run. Also included is the usual suite of art galleries, music galleries, challenges, etc.
Next up is Mega Man Legacy Collection 2, which includes games six through 10. With Mega Man 11 heading to consoles later this year, now is a good time to get caught up on the more recent Mega Man outings, including the retro-themed ninth and tenth games in the series. Just like with the first collection, you'll also get a bunch of galleries, extra challenges and, yes, amiibo support.
There's only one thing keeping these May 22 launches from being perfect, and that's the way the games are being packaged for the Switch. At launch, MMLC will cost $14.99 on the eShop while MMLC2 will run $19.99. If you want both, you can get a physical edition for $39.99, which comes with a Mega Man 30th Anniversary cleaning cloth for your Switch. The issue folks are already getting vocal about in the announcement's comments section is that the physical edition only includes MMLC on the cartridge, with MMLC2 available as a digital download.
Unlike Bayonetta, which features a similar structure if you want to purchase both games at once on a physical cartridge, these games don't take up much hard drive real estate, which makes this move extra confusing. Some are speculating that the purpose is to make it unappealing to ever trade the game in, as nobody will want to buy a used copy of a collection that only actually includes half of the games collected (as the other, digital half can't be downloaded on a second system).
There's still time for Capcom to change things up but, for now, thems the breaks.
Your Daily Blend of Entertainment News
Staff Writer for CinemaBlend.