Marvel Vs Capcom: Infinite Has Become An Xbox Play Anywhere Title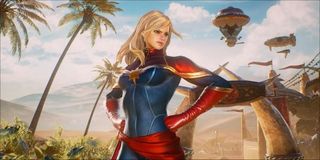 (Image credit: Capcom)
One way of convincing gamers to get on the ball and try a game is to give them a reason to play the game beyond the initial one of it just releasing on a random platform. For instance, some people may own an Xbox One and PC but may not be inclined to buy certain games for one platform or the other, only being willing to buy a game if it's compatible across both. Well, Capcom just applied the latter condition to Marvel Vs Capcom: Infinite, which has become an Xbox Play Anywhere title and received a price drop from $59.99 down to $39.99.
Over on the Microsoft Store, you can purchase a copy of Capcom's 2017 outing of Marvel Vs Capcom: Infinite and play it on a Windows 10 compatible PC or switch over and start playing it on an Xbox One system, including the Xbox One S or Xbox One X. Originally, the game did not feature Play Anywhere support, but now it does. Additionally, the base game has received a price reduction while the deluxe edition can now be picked up for $59.99.
At the top of the store page it now firmly displays a tag that says "Xbox Play Anywhere."
What this means is that any Xbox or Windows 10 compatible device can play Marvel Vs Capcom: Infinite... anywhere where you can access your Xbox Live or Windows Live account.
Microsoft started the Xbox Play Anywhere feature as a way to consolidate the experiences across its gaming platforms. Oftentimes, when gamers would buy games on PC they would then have to buy that same game again on Xbox.
Sony fixed this problem by starting the cross-buy feature, allowing a lot of PS Vita and PS3 gamers to buy a game on one platform and then play it on the other. Sony then extended the cross-buy from PS Vita to PS4, allowing gamers to buy a game on the handheld but play it on the PS4 or to buy a game on the PS4 and then access it on their handheld.
Microsoft decided to follow in the footsteps of Sony and provide gamers with the Play Anywhere feature for Xbox and Windows games. It probably would have been a much sweeter deal if there was a portable Xbox gaming system, but I guess most gamers will be fine settling for playing between PC and Xbox home consoles.
As for Marvel Vs Capcom: Infinite, this could be Capcom's way to renew interest in the game. It didn't quite capture the hearts and minds of gamers the way titles like Dragon Ball FighterZ have, and the engagement was so low that it didn't make the cut for this year's EVO 2018 tournament series. So, attempting to get people interested in buying the game with a Play Anywhere promotion is a solid way to raise awareness and possible interest in the crossover fighting game.
One of the big reasons that the game didn't quite take off was because it lacked some of the most popular characters in the series, including all of the X-Men, characters like The Punisher and Daredevil, along with various other fan-favorites who were present in Ultimate Marvel vs Capcom 3.
Anyway, Capcom isn't done with the DLC offerings for Marvel Vs Capcom: Infinite, so it's still possible that the X-Men might make an appearance. If they do, at least you'll be able to Play Anywhere whether you have a PC or Xbox One.
Your Daily Blend of Entertainment News
Staff Writer at CinemaBlend.