Ultimate Marvel Vs. Capcom 3 Will Get 48 DLC Costumes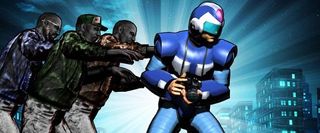 Capcom is anticipating high demand for Ultimate Marvel Vs. Capcom 3's downloadable costumes. In the coming months, they'll be releasing dozens of new costumes for the game's cast.
Each costume pack, containing four or five new outfits, will cost $4 or 320 MS Points. On March 6th, they'll release a Value Pack with all 48 costumes. The Value Pack costs $20, about half of what you'd have to pay to buy all of the costume packs individually.
The first DLC, dubbed the Rising Dead Pack, will arrive on November 22nd. It features a futuristic Ghost Rider and a Mega Man suit for Frank West among other outfits. Here's the full schedule of DLC for the next few months>
Nov 22 - Rising Dead Pack (Jean Grey, Ghost Rider, Frank West, Nemesis)
Dec 06 - Evil Twin Pack (Spider-Man, Deadpool, Hsien-Ko, Vergil)
Dec 20 - Ancient Warrior Pack (Hulk, Magneto, Arthur, Firebrand)
Jan 10 - Brawler Pack (Iron Fist, She-Hulk, Haggar, Spencer)
Jan 17 - Femme Fatale Pack (Storm, X-23, Morrigan, Chun Li)
Jan 17 - Villain Pack (MODOK, Super Skrull, C Viper, Wesker)
Jan 17 - New Age of Heroes Pack (Dr. Doom, Sentinel, Strider, Akuma)
Jan 24 - Animal Pack (Wolverine, Rocket Raccoon, Amaterasu, Felicia)
Feb 07 - Weapon Expert Pack (Taskmaster, Hawkeye, Zero, Trish)
Feb 21 - Viewtiful Strange Pack (Dr Strange, Dormammu, Viewtiful Joe, Phoenix Wright, Tron)
Mar 06 - Value Pack (All 48 costumes for $20.00 / 1600 MSP)
"These are in addition to the existing MvC3 costumes for Ryu, Chris, Dante, Thor, Captain America and Iron Man, plus if you buy the DLC characters Jill or Shuma Gorath you get their alternate costumes for free," said Capcom. "All of that content transfers over from MvC3 to UMvC3, so no, you don't have to buy the content again."
A slideshow of all the upcoming costumes can be found at GameSpot.
Your Daily Blend of Entertainment News
Staff Writer at CinemaBlend.