Another Call Of Duty Remaster May Be On The Way, With One Surprising Change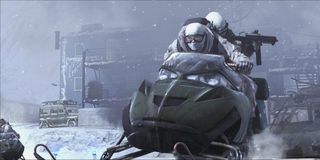 (Image credit: Activision)
Remasters are the cornerstone of library growth for most gamers who own an Xbox One or a PlayStation 4. Without remasters your gaming selection would look rather thin. Well, Activision wants to help further by possibly remastering another older Call of Duty game, but this time it's coming with one surprising change.
According to CharlieIntel, a Call of Duty: Modern Warfare 2 remaster could be in the works but without the inclusion of multiplayer. The site notes that multiple sources have told multiple sites that a remastered version of the highly popular Call of Duty: Modern Warfare 2 is coming and that it will not include multiplayer.
The rumors originally surfaced early in the week, when rumblings of a remaster for one of the most popular and highly requested first-person shooters from the seventh generation of gaming could make a comeback for the PlayStation 4 and Xbox One. Listings for the remaster also apparently popped up over on Amazon Italy, which is sometimes a good indicator of future games set to release or go on sale for pre-order ahead of the official announcements.
According to CharlieIntel, the outlet received some materials from a source that allegedly came from a Raven Software employee. Keep in mind that Activision uses Raven Software as a supplemental support outfit for many of the other larger studios, such as Sledgehammer Games, Treyarch, and Infinity Ward. However, in a surprising twist, the article states that it's unlikely that Raven Software is working on the Call of Duty: Modern Warfare 2 Remastered outing.
The article goes on to speculate that another Activision subsidiary could be heading up development on the remaster... Beenox.
Many of you might remember that Beenox has worked mostly with ports for other systems such as 007: Quantum of Solace and Call of Duty: Black Ops 3, while some of the standalone games that the outfit has worked on include Skylanders games and Spider-Man titles. Beenox was also responsible for the 2016 outing of Call of Duty: Modern Warfare Remastered.
Since then, Beenox hasn't been working on any other projects, so it wouldn't be outside the realm of possibility that Activision would have Beenox lead on Call of Duty: Modern Warfare 2 Remastered, and possibly have Raven Software offer support for the outing, given that the exact same thing was done for the 2016 Call of Duty remaster.
Obviously, the most surprising part about this is that there won't be a multiplayer component. Perhaps this is just to throw gamers off? The multiplayer was easily one of the most popular parts about the Modern Warfare trilogy, in addition to the campaign modes. So it would seem odd to just include one or the other and not both together, unless Activision has plans on selling the multiplayer component separately?
For now, it's still a rumor until Activision confirms the news. But, given that Call of Duty: Modern Warfare Remastered launched without the DLC included, and the maps were made available separately, it's very well possible that Activision might do the same with the multiplayer component for a remastered version of Call of Duty: Modern Warfare 2.
Your Daily Blend of Entertainment News
Staff Writer at CinemaBlend.