Legend Of Zelda: Breath Of The Wild Wins Yet Another Game Of The Year Award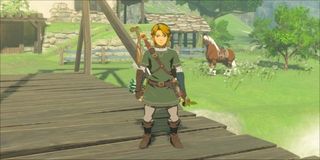 (Image credit: Nintendo)
The one game that seems to have racked up more awards than any other throughout and beyond 2017 is Nintendo's The Legend of Zelda: Breath of the Wild. After picking up the Game of the Year Award at the 2017 Game Awards, Nintendo picked up yet another award at a recent show.
According to Gamespot, the Game Developers Choice Awards took place in San Francisco, California at the dawn of spring. The GDC Awards gave game of the year to Nintendo's The Legend of Zelda: Breath of the Wild.
There was stiff competition in the field from other AAA heavy-hitters that came out in 2017, including Super Mario Odyssey, which was a late entry in the year but went on to sell millions upon millions of copies for the Nintendo Switch and ushered in a very unique and challenging take on the traditional Super Mario experience by allowing players to take control of enemies and objects using a magical hat named Cappy. There was also Platinum Games' Nier: Automata, which was a medium budgeted action-RPG focused around three androids involved in a plot to save Earth from rampaging leftover robots from a long forgotten war. The game had a highly philosophical storyline and a soundtrack that really stood out.
The biggest competition for Breath of the Wild came in the form of Guerrilla Games' Horizon: Zero Dawn. Both games had high counts of nominations, with the robo-pocalypse game matching Nintendo's title with six nominations across various categories.
Another surprise entry in the Game of the Year category was PUBG Corporation's PlayerUnknown's Battlegrounds. This has always been a topic of contention because a lot of gamers feel as if the Battle Royale survival game wasn't complete enough and wasn't polished enough to deserve a place on the nomination podium next to certain AAA titles from 2017. However, something must be said for the fact that the game garnered nearly 40 million sales during its first year on the market, which is obscenely impressive.
In a way, an argument definitely has to be made that a game that popular may deserve to be considered Game of the Year. However, gamers (and apparently developers) like to consider the longevity of the title as well, which I think is why Legend of Zelda: Breath of the Wild came out on top at the DICE Awards, the Game Awards, and the GDC Awards.
A decade from now, will gamers still be playing PlayerUnknown's Battlegrounds? And will people still be talking fondly about it the way they will about titles like Super Mario Odyssey and Breath of the Wild? I mean, there are still people who have fond memories of Legend of Zelda: Wind Waker and Legend of Zelda: Ocarina of Time, so it doesn't seem entirely surprising that a game attached to a series that people have very fond memories of would walk away with yet another Game of the Year award, even while facing off against some stiff competition from other high-quality outings.
Your Daily Blend of Entertainment News
Staff Writer at CinemaBlend.