What's Next For The Legend Of Zelda Series, According To Breath Of The Wild Director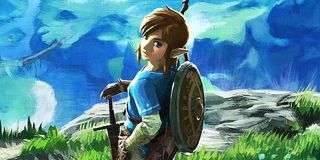 With the second promised DLC for The Legend of Zelda: Breath of the Wild finally available, Nintendo fans have already started wondering what comes next for the series. According to Champions' Ballad Director Hidemaro Fujibayashi, the developer is wondering the same thing.
Hidemaro Fujibayashi recently had a chat with the folks at IGN, and when asked about the future of the Zelda series, he said that the horizon is basically wide open at the moment.
That's not surprising, considering the fact that Breath of the Wild is less than a year old, only two relatively small additions have been plugged in as DLC. And, thanks to all of the game of the year talk, the title still remains in the spotlight.
Based on what Fujibayashi is saying, it sounds like Nintendo is considering a couple of different paths for the Zelda series. No matter which route they take, the series' success pretty much guarantees more from Link, Zelda and their band of friends and enemies is on the way.
We take "continuation" to mean future potential DLC for Breath of the Wild. If you'll just take a look at games like The Witcher 3 or Final Fantasy XV, you'll see that big, open-world RPGs are perfect for the games as service model. Nintendo put a lot of time into building Breath of the Wild, so why not get as much mileage out of that already successful game as humanly possible? Similar to those other games mentioned above, Nintendo could simply keep pouring new content into the game, offering new adventures, areas to explore and more.
Then again, the Switch already has a storage problem, and you probably don't want to add too many extra gigabytes onto a single game. Also, since the Wii U is all but dead, Nintendo has to ask themselves if they want to keep making DLC for a game that's available on that particular system.
The obvious alternative would be to create a direct follow-up to Breath of the Wild using the same engine. Nintendo was smart to give the game a sort of timeless look, so a new game built on that foundation will still look great in two to three years.
Or, maybe they start from scratch all over again and head in a new direction for the series. We'll just have to wait and see.
So what do you think, readers? Do you want more DLC to keep Zelda running on the Switch continuously, or would you rather take a breather and wait for an entirely new game to arrive? Let us know in the comments below.
Your Daily Blend of Entertainment News
Staff Writer for CinemaBlend.
Your Daily Blend of Entertainment News
Thank you for signing up to CinemaBlend. You will receive a verification email shortly.
There was a problem. Please refresh the page and try again.