Splinter Cell's Sam Fisher Is Coming To Ghost Recon Wildlands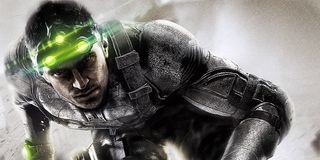 Now that we know Ghost Recon Wildlands is getting another season's worth of updates, speculation can begin concerning what, exactly, players can expect over the next 12 months. One thing none of us probably saw coming, though, was Sam Fisher dropping into the action.
Ubisoft made a lot of their fans very, very happy today when they revealed a crossover of sorts will be happening between Tom Clancy games. According to the reveal trailer, Splinter Cell's Sam Fisher will be joining the fray in Ghost Recon Wildlands.
While we don't know all of the details just yet, the trailer drops several hints as to what players can expect out of Fisher's arrival in Wildlands. For more details, the trailer ends with the promise that additional information will be revealed on April 9. We have a feeling we've got a full-on trailer in store, perhaps showing off Sam Fisher's sneaky abilities and how they are translated into Wildlands.
From the trailer and the provided description, we know that a special operations mission, "The Call," will be part of the year-two content for Wildlands. We get lots of interesting radio chatter and then, boom, Fisher himself is shown on-screen. The coolest part is that Fisher seems to be voiced by Michael Ironside, who was replaced in the most recent Splinter Cell game. We can only hope that this means the voice talent is back for good and, fingers crossed, maybe even starring in a new game for that beloved franchise?
In the trailer, we hear the voice of Paladin explaining that "Langley has sprung a leak and needs us to stick our thumb in it." Shortly after, the person Langley is talking to is told that they had better brush up on their Spanish, as they'll be heading to Bolivia.
That's when we hear Fisher's voice come over the radio, saying he's going to need some extra firepower to get the job done. Then we get the rather fantastic line "I've got friends in that neighborhood. Call the Ghosts." We figure all major Clancy fans either felt chills, cried or both.
The good news is that we only have to wait until Monday to find out more details concerning The Call. We figure that would be a pretty great way to kick off the big year two content in Wildlands, which Ubisoft has decided to keep rolling due to continued community support.
Still, since Predator is already in the game, we can't help but wonder if there will be a future mission pitting the stealthy alien hunter against the stealthy human hunter. Just imagine the promotional videos featuring the iconic green glow of Fisher's goggles accompanied by the iconic red crosshairs of Predator's cannon.
Your Daily Blend of Entertainment News
Staff Writer for CinemaBlend.