Capcom Already Pulling The Plug On Puzzle Fighter Mobile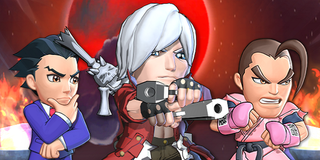 Well, that was fast. According to a recent announcement, the barely-out-the-door Puzzle Fighter mobile game will be shutting down in the coming months.
About five months back, Capcom launched a mobile version of its popular gem-busting series, Puzzle Fighter. In the game, players take on the persona of various characters from Capcom games and then compete in brick-breaking puzzle showdowns in the hopes of outlasting your opponent. Creating specific chains with your character of choice has the effect of triggering a special move, hopefully flooding the opponent's screen with more gems than they can handle.
Puzzle Fighter has never been a huge franchise, which is why mobile actually seemed like a safe place for the cult classic to thrive. That has apparently not been the case. According to a recent announcement on the Capcom blog, the publisher will soon pull the plug on the game for good.
Thankfully, this isn't one of those "in about a week" closure situations. Instead, Capcom is taking a few months to go all-out with the game, giving away all kinds of content and adding fan-favorite modes on a constant loop until the final closure. That date is set for July 31, with the game still available in the App Store until July 1. You'll only be able to spend money on the game through April 23, though, if you really feel like throwing Capcom a few extra bucks before they abandon the game less than a year after launch.
The stated reason for this closure is that Studio Vancouver is aiming to focus their full attention on their main series, Dead Rising. Given the fact that the community's biggest complaint seems to be a lack of customer support and content, it's hard to imagine Puzzle Fighter was taking up that much time from that many people. It seems more likely that the game simply wasn't making enough revenue to warrant continued development.
It seems like this was not a decision long in the making, as there's actually still additional characters and levels planned for the game. As an added apology on top of the 10,000 in-game gem currency all players will be receiving, upcoming characters Dr. Wily, Regina and Ada Wong will be dropped into the game soon free of charge for all players, as well as the pair of stages that were planned as premium content. Also, the game's soundtrack is now available to listen to at no cost on SoundCloud and the Classic Mode limited event will be open throughout the remainder of the game's run.
We can't blame a studio for cutting their losses, especially if they have other projects on their plate. If nothing else, maybe this news can go in the "good" column for Dead Rising fans, as it will now apparently receive the full attention of Studio Vancouver.
Your Daily Blend of Entertainment News
Staff Writer for CinemaBlend.