Fallout 4 Characters Celebrate Christmas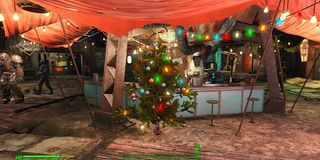 In case you absolutely can't wait for Christmas to get here, you can deck the halls a little early this year by tinkering with your in-game clock for Fallout 4. Doing so will crank the festivity meter in at least one town all the way up to 11.
It's not uncommon for games to celebrate real-world events. This is especially common in MMORPGs like Lord of the Rings Online or the more recently released MMOFPS, Destiny, both of which held special events in honor of Halloween. Those games are patched and changed on the fly regularly, so dropping in special events is almost expected at this point.
These sorts of Easter eggs are less frequently baked into standard games, but it does happen from time to time. I imagine a few of our readers have spent a holiday or two in the world of Animal Crossing: New Leaf, for instance. No? I'm the only one that lonely, huh?
Anyway, as it turns out, Fallout 4 is just such a game. As was recently posted on the Fallout 4 reddit, certain things happen within the game world when a real holiday swings around.
Since you can set the game's time and date, it looks like the inhabitants of Diamond City decorate the streets and fall into a festive mood when Christmas rolls around. If you're not cool with that, then I suppose you can just take your plain red Starbucks cup and just giiiit oooooout.
It turns out that's not the only holiday the folks at Bethesda decided to have fun with, though. After Oct. 31, some of the NPCs will apparently talk about how lame their Halloween was. As you can imagine, there are loads of folks now hunting down additional Easter eggs, some of them quite literally carrying out their task with the Fallout 4 clock set to the Easter holiday. I'm thinking we can expect even more reports of fun in-game antics in the coming weeks, once folks manage to uncover them.
If, however, you prefer to let things happen in the natural course of time, then you've only got about four weeks to wait before Christmas is celebrated in your copy of Fallout 4. If you happen to get the game for the holidays, however, chances are you might not make it to Diamond City in time for the event. If that's the case, there's always next year, right?
If you'd like to just see the holiday goodness in action without having to bother with any of the options listed above, you could always watch the Youtube clip from Apoqsi posted below.
Staff Writer for CinemaBlend.
Your Daily Blend of Entertainment News
Thank you for signing up to CinemaBlend. You will receive a verification email shortly.
There was a problem. Please refresh the page and try again.