Mandy Moore Responds To Wild Frozen/Tangled Fan Theory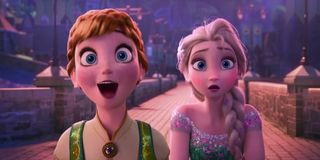 There's nothing moviegoers love more than a wild fan theory, and that can be particularly true when it connects one Disney movie to another. For example, one of the craziest movie conspiracy theories of recent years links Frozen and Tangled, and it was utterly depressing. That's because it suggested that Anna and Elsa's parents were travelling to attend the wedding of Rapunzel and Eugene when their ship sunk, and left them missing presumed dead. One person who could have confirmed whether or not this could be true is Mandy Moore, who voiced the character of Rapunzel in Tangled. Instead, she has shot it down, instead insisting that's way too dark. After recently being presented with the fan theory, Mandy Moore responded,
Mandy Moore went on to tell TV Line that she doesn't believe that there is a connection between Tangled and Frozen, before noting that if there actually is then it wasn't told to her. However, she did encourage eager and overly-imaginative Disney fans to continue producing such bizarre conspiracy theories, insisting that it's their prerogative to do so. That being said, she was clearly left perturbed just by the mere mention of this possible crossover, and she may never be able to watch either Tangled or Frozen in the same light again.
Disney only have themselves to blame for the repeated questions regarding the connection, too. That's because it originated after eagle-eyed Disney fans spotted the presence of both Eugene and Rapunzel at Elsa's coronation ceremony in Frozen. One blog then hypothesized, "What if the King and Queen of Arendelle were on their way to Rapunzel and Eugene's wedding when their boat sank, and that's why Rapunzel and Eugene felt the need to come to Elsa's coronation ceremony?"
Cue bedlam, because the internet then found more and more information linking Tangled to Frozen, with one fan even bringing The Little Mermaid into the mix too. However, Frozen co-director Chris Buck later went on to explain to MTV News that, in his mind, Anna and Elsa's parents didn't die in the shipwreck. Instead they were at sea for much longer than Frozen showed. So much so that she actually became pregnant on the ship. But when it sank they washed up near a jungle and gave birth to a baby boy. But Elsa and Anna's parents were killed by a leopard after a building a tree house, and their baby boy was raised by gorillas. That's right: according to Buck, Frozen is actually linked to Tarzan, who is Elsa and Anna's brother. Of course, Chris Buck immediately negated that fan theory by insisting that, in his mind Surf's Up is unfolding on the other side of the island.
What's your personal take on all of this? Do you think there is a reasonable connection to be made between Frozen and Tangled, and if so, how do you see the two linking up? Hit the comments below with your thoughts!
Your Daily Blend of Entertainment News