Which World Kingdom Hearts III Will Probably Show Off Next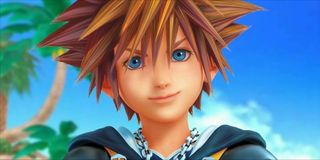 After finally receiving a release date after years upon years of development, Square Enix and the rest of the development team still weren't done showcasing new content and new worlds set to appear in the upcoming Kingdom Hearts III from the expanded Square Enix and Disney universes. Obviously, there's a wealth of worlds for the gang to visit but only a certain number of locations will make the final cut. Nevertheless, there are more worlds expected to be showcased for the upcoming JRPG and we're already being teased with what the developers will probably show off next.
According to an interview snippet set to appear in Dengeki PlayStation Vol. 266 that was posted on Hokanko-alt [via KH Insider] it was revealed by the creative director, Tetsuya Nomura, that gamers can expect to see the world and characters from Disney's Big Hero 6 as the focal point of the game during the next upcoming demonstration of Kingdom Hearts III, which might either be at GamesCom in August or the Tokyo Game Show in September.
The translated interview reveals that whenever Square Enix decides to promote Kingdom Hearts III again, expect to see a lot more of Big Hero 6.
We don't know exactly what sort of role the characters or world will play in the JRPG, but they will be present. I'm sure a lot of fans are hoping that they get to explore some of the locations from the movie and get a significant amount of play time and interaction out of the inclusion of Big Hero 6. We did know that the world would be present in Kingdom Hearts III some time ago when a trailer teased the appearance of Baymax, but we didn't know to what extent. One of the reasons it has taken so long to showcase some of these new worlds is because the team had to build everything from scratch. There were no borrowed assets from Disney's studios, which is something that is sometimes done to help studios speed up development, but that wasn't the case here.
This also explains why so very little was showcased for Pirates of the Caribbean, which is one of the only live action-based Disney properties to make an appearance in Kingdom Hearts III. The team also wanted to put more effort into the Pirates of the Caribbean world to do the graphics justice. It's also based on the connected story from Pirates of the Caribbean: Dead Man's Chest and Pirates of the Caribbean: At World's End.
It was also revealed that other worlds like Frozen were planned to be added early on in the development cycle, and that the story elements within the game will follow chronologically what was depicted in the movie, while also giving gamers a look at what will happen behind the scenes with Anna and Elsa. There will also be an ice-skate Keyblade transformation, along with some combat assistance from Marshmallow. Interestingly, neither Elsa nor Anna will help out during fights, nor will they be engaged in combat, much to the chagrin of some fans who probably wanted one or both characters to join their team.
Ralph from Wreck-It Ralph will join in on the battles, though, as one of the Link Commands, and this will tie into the leveling setup, which they mentioned will be similar to Kingdom Hearts and Kingdom Hearts II.
Given how much work is going into each of these worlds, world progression will be fixed so everyone will be able to experience each of the worlds as they progress through the game. Of course, the next time you see the game, you'll be able to catch a glimpse of Big Hero 6. Kingdom Hearts III is due out on January 25th, 2019 for PS4 and Xbox One.
Your Daily Blend of Entertainment News
Staff Writer at CinemaBlend.
Your Daily Blend of Entertainment News
Thank you for signing up to CinemaBlend. You will receive a verification email shortly.
There was a problem. Please refresh the page and try again.