Why Square Enix Announced The Final Fantasy 7 Remake So Early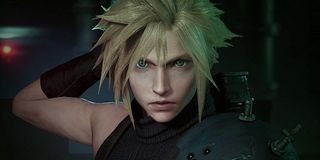 We got a lot of updates on the development of a lot of games during the recent E3 2018, but one game that was noticeably missing from the mix was the remake of Final Fantasy VII. In a recent interview, Director Tetsuya Nomura admits that Square Enix revealed the game a bit too early, though he argues it was for a good reason. In case you weren't aware, the games industry is full of holes through which information leaks on a regular basis.
Nomura recently sat down for a chat with Italian outlet Multiplayer, which the folks at Kingdom Hearts Insider were kind enough to translate. Obviously, Kingdom Hearts is a big focus of the conversation, but Nomura dives into Final Fantasy VII a bit, too. When asked about the timing of the highly-anticipated remake's reveal, Nomura explained that the developer simply wanted to get ahead of all of the rumors and speculation.
That's actually a pretty understandable move. Revealed during E3 2015 and further shown off during that same year's PlayStation Experience, we haven't heard much about what to expect out of this FFVII remake just yet. At the time, though, rumors were starting to circulate that Square Enix was working on the game. It was only a matter of time before someone spilled the beans, so Nomura argues that the decision was made to simply come out and say, "yeah, fine, we're working on it."
What they didn't say, though, was how many years into development the game was or how many more years it would take to complete. We've been waiting a solid three years since that initial announcement and have seen very little of the game in the meantime. Our understanding is that development hasn't been super smooth, with everything from mechanics to systems and engines changing in the process. Simply put, if there was something worth showing off at this point, we figure we would have seen it by now. In other words, we're not holding our breath for a surprise launch anytime soon, though we've still got Gamescom and Tokyo Game Show on the horizon for potential announcements.
If Kingdom Hearts 3 has taught us anything, it's that patience is a virtue when it comes to Square Enix games. That game has been "coming" for about a decade now, and we only recently got an early 2019 launch date at the same E3 that FFVII missed out on. But the important takeaway here is that, even though it feels like it has taken forever, the team finally delivered. Final Fantasy VII is too big of a game for Square Enix to drop the ball on, so we can't really blame them for taking their time and striving to get it right.
Your Daily Blend of Entertainment News
Staff Writer for CinemaBlend.