How Red Dead Redemption II Compares To GTA, According To Take-Two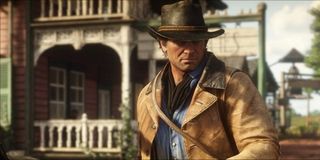 (Image credit: Rockstar Games)
As Take-Two Interactive and Rockstar Games prepare for the release of Red Dead Redemption II this fall, everyone is left wondering exactly how well the game will measure up. Even more than that, there are people wondering how well Red Dead Redemption II will measure up against some of Take-Two's and Rockstar's own properties... namely Grand Theft Auto. As the biggest entertainment property in the world, GTA is no market pushover. Take-Two's CEO was put on the spot and asked specifically how well Red Dead Redemption II is expected to compare to GTA on the market.
In the interview with Game Informer, Take-Two CEO Strauss Zelnick tackled the question at this year's E3 in Los Angeles, California, explaining how the company feels about Red Dead Redemption II in comparison to GTA, saying....
Zelnick isn't exaggerating or engaging in hyperbole. Grand Theft Auto -- specifically GTA V, and even more specific than that, GTA Online -- has managed to become one of the most profitable entertainment properties of all time, moving nearly 100 million units and generating billions of dollars in the process.
A lot of this boils down to very precise and expert marketing on behalf of Take-Two and Rockstar Games. The company first released GTA V at the tail-end of the seventh generation of gaming, managing to sell tens of millions of copies on the Xbox 360 and PS3 alone. A year later the company re-released GTA V for the Xbox One and PS4, where it moved millions of more copies for both home consoles. A year after, the game finally made its way to PC, opening up GTA V to the modding community where it generated even more buzz, and selling millions of more copies on PC.
The scattered release of a single property worked out well enough for Take-Two Interactive. I don't think they could manage to strike lightning twice with that kind of strategy unless Red Dead Redemption II turns out to be a hugely popular game and a year or two later the PS5 and Xbox (Two?) release and Take-Two can re-release the game again. However, for now, Strauss is looking at the interim, and in the interim he believes that the game will be a hit, but how huge of a hit? Well, he doesn't know...
Realistically, all gamers can hope for is that Red Dead Redemption II turns out to be a high-quality game that looks and runs great on the Xbox One and PS4 (and maybe hope and pray a PC version is released at some point in the near future). However, Strauss Zelnick isn't trying to get investors riled up to believe that the game will rival or surpass GTA V's success. It's a serious long shot and even while we can all expect it to move millions of copies, hoping that it could move 100 million copies is a bit of a stretch. Then again, this is Rockstar and anything is possible.
You can look for Red Dead Redemption II to launch on October 26th, 2018 for Xbox One and PS4.
Your Daily Blend of Entertainment News
Staff Writer at CinemaBlend.
Your Daily Blend of Entertainment News
Thank you for signing up to CinemaBlend. You will receive a verification email shortly.
There was a problem. Please refresh the page and try again.