My Memory Of Us Trailer: Hear Patrick Stewart Narrate The New Game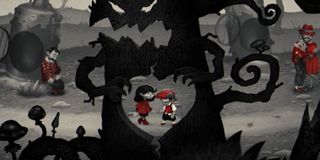 Patrick Stewart is probably one of the most underrated actors in the business. He has an easily recognizable voice, and a very striking screen presence. It's a shame that he hasn't been used in more games throughout the ever-evolving world of interactive entertainment. Outside of a noteworthy performance in Castlevania: Lord of Shadows, Stewart has been vastly underutilized in the gaming space... until now. You get to hear Stewart's commanding voice in action as he narrates the brand new trailer for the game My Memory of Us. The game was just recently announced by Juggler Games, and now has a debut trailer.
The new trailer starts with Stewart explaining that life can be like a fairytale even on seemingly normal days. During this time, we get a snippet of different scenarios involving a boy and a girl, playing out in a field, eating at a dinner table, and swinging from a tree. Things then change drastically, and the trailer takes on a far darker tone as Stewart explains that an evil robot army has begun invading the town. People have been rounded up. In a last desperate bid to save his friend, the young boy attempts to find her and rescue her from whatever fate the robot army has in store for her.
The trailer is really inventive, as it plays out more like a movie premise than a video game. In fact, if all you heard was Patrick Stewart's voice you would probably assume that My Memory of Us was a film of some sort. In a way, it does kind of look like some sort of experimental project.
In addition to Patrick Stewart, the entire game is in black and white, save for certain characters who are displayed with splashes of red. We see that the robots begin targeting those who are in red, taking them away. According to the game description, those in red are forced out of their homes and placed behind a wall. Since the girl is in red and the boy isn't, she's taken away by the robots and so the boy attempts to track her down so that they can be together, for better or for worse.
It's interesting, how within the span of just a minute plus, the game takes on a very menacing tone. Originally My Memory of Us reminded me a little bit of Valiant Hearts: The Great War from Ubisoft. However, My Memory of Us goes for a more stark color contrast with the monochrome palette that then transitions into highlighting red among certain characters and objects. The game utilizes sketch-like graphics, giving it a very cartoon-like look. The designs and atmosphere also seem very much inspired by World War II.
The game will have puzzles to solve in a 2.5D perspective, a little bit like PlayDead's Inside. There's also a dialogue system, and different skills and abilities both characters can utilize throughout the adventure, a little bit like Papo & Yo. You can look for My Memory of Us to drop for the Xbox One, PS4, and PC starting October 9th later this year.
Staff Writer at CinemaBlend.