Travis Strikes Again: No More Heroes Has A Release Date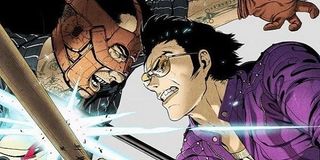 Travis Strikes Again: No More Heroes was announced way back at the Nintendo Switch reveal and, according to a recent announcement, we don't have to wait much longer before the game is finally in our hands. According to Grasshopper Manufacture, Travis Touchdown and Badman will be busting skulls come Jan. 18, 2019.
The first two No More Heroes games launched way back on the Nintendo Wii. Arcade-style beat-em-ups with attitude, the series saw players madly swinging their Wii remote around in order to brutalize bad guys. In Travis Strikes Again, a full seven years have passed since the events of the original No More Heroes, with the new game's story set in a trailer park in the U.S.
One of the assassin's Travis took out in the first game, Badgirl happens to have a father who is out for revenge. Travis Strikes Again opens with Badman trying to settle the score with Travis, only to see them both sucked into a Death Drive MK-II video game console.
In case it wasn't clear, this latest No More Heroes is far removed from the original series. Rather than exploring an open world, pulling off odd jobs to earn cash and pulverizing the occasional baddie, Travis and Badman must team up and fight for their lives in order to escape the rogue gaming machine. Rumor has it that whoever beats the console's six games will have their wishes granted and, you know, not disappear into cyberspace for all eternity.
We don't have a lot of info on the six games Travis and Badman will need to beat, but we've seen at least one in action; an isometric beat-em-up that seems reminiscent of the combat in the original games but seen from a new perspective.
It looks like the game is also going to be full of fund nods. The Death Drive MK-II, for instance, is the same console being played in Grasshopper Manufacture's free-to-play Souls-like, Let it Die. Also recently announced is the fact that Travis Strikes Again will boast a metric ton of cosmetic items inspired by other indie games. There will be more than 51 T-shirts available to unlock in the game at launch, with designs based on games like Hotline Miami, Enter the Gungeon, The Messenger, Reigns and even Hatoful Boyfriend.
I was a little underwhelmed with the original reveal for Travis Strikes Again. The timing and how far removed it was from the original games made it look like it was being rushed out to bring some fan-favorite name recognition to the new console. That, clearly, has not turned out to be the case. The team has been working on this latest No More Heroes for quite a while now, and I'm a big fan of all the love the team is showing its fellow indie developers.
Just a few more months of waiting and we'll finally get to take Travis and Badman for a spin.
Your Daily Blend of Entertainment News
Staff Writer for CinemaBlend.