God Of War's Director Has An Awesome Idea For A Superman Game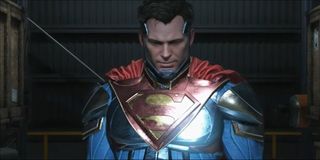 (Image credit: Warner Bros)
Superhero games are often regarded as some of the best and some of the worst interactive experiences in gaming. You don't have to look far to find out that most gamers consider Rocksteady's Batman: Arkham trilogy to be one of the very best action-stealth games ever made in the history of gaming, just the same as you'll find that plenty of gamers absolutely adore NetherRealm Studios' Injustice series. But then you have the flip side of the equation, where games like Superman 64 and Sega's Iron Man games have been regarded as some of the worst games ever made for any platform. God of War creative director, Cory Barlog, feels like he has an idea for a Superman game that might revive the blue-tights wearing hero in the realm of gaming and possibly put his game on par to the likes of his cowled comrade, Batman.
During one of the panel discussions at this year's PAX West in Seattle, Washington [via Game Informer] Barlog revealed what his idea would be for a game based around Superman, saying...
This is a very, very interesting take on the iconic superhero. Before arriving at that pitch, however, Barlog talks about how the common concepts for a game might center around Superman with a son, and attempting to raise his boy, not unlike Barlog's God of War reboot-sequel that just came out earlier this year for the PS4.
Another pitch was a Smallville-inspired story where players would have to balance school life with being a superhero, sort of like Life Is Strange meets Marvel's Spider-Man.
But it was the concept of "caring" that Barlog centered around for the more important and poignant pitch. The idea that Superman having to save people and not being able to save them all will affect his psyche, and ultimately affect how you're playing the game.
The idea would be that instead of the main antagonist of the Superman game chipping away at Superman's health bar, it would be players attempting to maintain Superman's psyche -- to help as many people as possible and to avoid as much destruction as possible.
It's an interesting concept that actually seems to appeal to how most people view the character, which is why there was so much contention from the audience over Zack Snyder's depiction of Superman in Man of Steel.
As far as gameplay is concerned... Barlog didn't focus on it that much but mentioned it would be more of a progressive-scale system where you start out as a young Clark Kent who eventually unlocks more of his powers as he goes along. It's not a bad concept at all, and I could literally see that working if it's handled properly. Of course, pitching a game is a lot different than making the game.
But what do you think? Is Barlog's concept for a new Superman game interesting to you?
Staff Writer at CinemaBlend.
Your Daily Blend of Entertainment News
Thank you for signing up to CinemaBlend. You will receive a verification email shortly.
There was a problem. Please refresh the page and try again.