Fortnite Season 4 Is Finally Here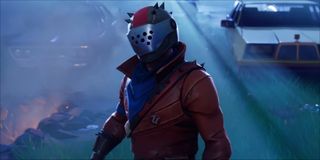 Epic Games' third-person survival shooter, Fortnite, has entered into its fourth season for the free-to-play Battle Royale mode and the Save the World mode. The game modes are now filled with all new skins, new weapons, and brand new balance patches to improve on the overall gameplay.
The news went live over on the official Epic Games website, where the patch notes for Season 4 were rolled out in full, including detailing the all new map, which you can take a glimpse at in the trailer above.
The trailer is a cinematic that starts in a drive-in theater where a fully decked out character in a motorcycle helmet and an Unreal Engine red leather jacket is watching an old 1950s style sci-fi film when comets begin to fall from the sky and destroy the surrounding area.
Various Fortnite characters are seen witnessing the fall of the comets, while a group of heavily armed characters go to investigate the crash site. Just before we get a good look at what's inside the comet, the trailer cuts off.
The changelog, however, does not cut off. It gives gamers an idea of what to expect from the new season of content, including a Battle Pass that contains 100 tiers of all new rewards, including all new cosmetic items, new emotes to use in-game, and all new sprays. I'm not sure why sprays are such a huge thing, but Overwatch made sprays popular again since the old days of Jet Set Radio Future.
The Save the World mode also features a new questline for players to follow in the Blockbuster! Part 1, which contains five all new quests this season, starting with the Landmark Mission, where Ray goes missing and Spitfire and Lok go to investigate while recruiting super heroes to help with the cause, which ties into the Season 4 promo art that Epic Games teased a short while ago.
The bread and butter of Fortnite is located in the Battle Royale mode, however. So, obviously, the big new feature for the mode is the all new map that players will be able to explore in the survival mode where players can either team up in squads or attempt to survive to be the last player standing.
The fallen comets also play a part in the actual gameplay for both the Save The World mode and the Battle Royale mode. If you pick up and collect some of the fragments from the comets, you'll be able to gain some low gravity abilities, which tie into the whole super hero theme.
Epic Games has also added all new loot to Fortnite, giving players all new items to collect, new weapons to acquire, and new building material to use in order to build forts. Season 4 for Fortnite is accessible right now for PC, PS4 and Xbox One.
Your Daily Blend of Entertainment News
Staff Writer at CinemaBlend.