Darksiders 3 Is Releasing Two DLCs After Launch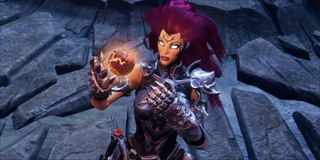 (Image credit: THQ Nordic)
Gunfire Games and THQ Nordic's Darksiders 3 is a weeks away from release. It's due out at the end of November, November 27th to be exact. However, an entire month before the game hits digital and retail shelves the studios have announced that there will be two post-launch DLCs made available for the third-person hack-and-slash game.
Game Informer is reporting that new details have emerged ahead of the release of Darksiders 3, indicating that two additional adventures will be made available for the game post-launch. These DLC's will be titled The Crucible and Keepers of the Void. They will include new playable areas for players to explore, along with additional challenge puzzles, and new items to acquire. Along the way both DLC packs will also see Fury facing off against new enemies - but it doesn't mention if there will be any new boss fights.
What we do know is that the first DLC, The Crucible, is not the Crucible from Destiny 2. You will not be facing off against other celestial beings in hardcore PvP action set within arena-based environments. However, the DLC is themed around arena-based combat. Primarily it will center around Fury being summoned by a mysterious being to fight against seemingly endless hordes of enemies in order to escape. It sounds like a typical challenge map pack themed around an endless survival mode. As you complete challenges you can receive new rewards and items. It sounds like a good hold-me-over approach to DLC to give gamers something to sink their teeth into after completing the main game.
It's possible that Gunfire is addressing the replayability issue in Darksiders 3 ahead of its launch following some complaints from gamers that the original game that came out back in 2010 wasn't quite as replayable as it could have been.
The second game, starring Death, had a lot more meat on its bones as far as role-playing elements and looting was concerned, but some felt it was a bit long in the tooth and stretched on for a little too long. I imagine the DLC for Darksiders 3 is Gunfire's way of trying to find a solid balance between the grind in Darksiders 2 and the straight-through fun-factors of the original.
The second DLC, Keepers of the Void, centers around a quest that Fury takes on from Vulgrim, where she must venture into the Serpent Holes to find and destroy an ancient threat from long ago. In some ways it seems as though this answers the question about whether we'll see more bosses through the DLC... assuming that the "ancient threat" is actually a boss and not just a plot swerve of some sort. According to the description, Fury will have to spend a lot of time having to overcome puzzles in order to unlock new weapons and the Abyssal Armor, which was actually attainable during the main campaign in the first game.
There's no specific time frame on when the post-launch DLC will be available, but it will launch after the game becomes available for the Xbox One, PC and on PS4 starting November 27th..
Your Daily Blend of Entertainment News
Staff Writer at CinemaBlend.