Insomniac Pokes Fun At The Internet With Photo Mode Enhancement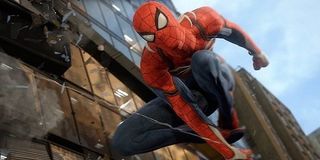 Now that Spider-Man is out in the wild and has won over the hearts of millions, Insomniac has taken the opportunity with the game's new photo mode to poke fun at a pre-launch "controversy": Puddlegate. The latest update lets you take pictures and even cover them in stickers and, for those of you who wish there were more puddles in the game world, you can now add them yourself.
The above tweet comes from Insomniac Games Community Director James Stevenson, who grabbed onto a comment from User Interface/User Experience Lead Gil Doron. As the duo points out, this week's update to Spider-Man is full of fun new tweaks, including New Game Plus mode and a Photo Mode that lets you add frames and stickers to your best in-game snaps. To show this off, they dropped in a now iconic scene of Spidey spying on some bad guys and enhanced it with a bunch of stickers of puddles.
In case you're curious what all of the fuss is about, there was a bit of an argument involving the quality of Spider-Man before the game launched. In an early teaser for the game, there's a scene of the wall-crawler about to get the drop on some baddies who are strolling through a construction site with some large puddles of water underfoot. When the game was nearly ready for launch, that same scene made the teaser cut, only with smaller puddles.
This is the internet so, of course, people lost their minds. It all started out as complaints about the disappearing puddles, which evolved into a slightly more sophisticated gripe about what the puddles "represent," specifically a drop in detail from the teaser to the actual in-game footage.
This gets at one of the biggest pitfalls in games promotion so, if you wonder why so many studios stay tight-lipped about their games, now you know. The initial video was a target the studio was gunning for and meant to show off what they hoped to achieve once launch rolled around. Some folks have an issue with this, though, as they feel like it actually represents a developer lying to them about what a game is actually going to look like.
I'm not going to sit here and say that some teams don't knowingly go overboard with their concept clips, but it's important that the audience knows exactly what it's looking at: a teaser. Harassing a studio and even going so far as to send death threats because a finished product doesn't look like a trailer from the year prior is inexcusable behavior, but it's nice to see Insomniac at least has a sense of humor about the whole mess.
But, yeah, on top of that photo mode is the New Game Plus mode, which lets you start the whole game over with all of your unlocks in tow. It's also worth noting that Spider-Man's first DLC drops next week, boasting the first of three chapters making up The City That Never Sleeps story arc.
Staff Writer for CinemaBlend.
Your Daily Blend of Entertainment News
Thank you for signing up to CinemaBlend. You will receive a verification email shortly.
There was a problem. Please refresh the page and try again.