The New Spider-Man Story Trailer Is Everything We Want From A Spider-Man Game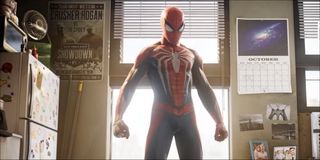 Insomniac Games and Sony Interactive Entertainment released a brand new story-oriented trailer for the upcoming open-world, superhero action game, Spider-Man. The trailer practically gives us everything we could possibly want from a new Spider-Man video game.
The trailer aired during the Sony press conference for this year's Paris Game Week. The trailer clocks in at just two seconds over the two-minute mark, and it starts with Mary-Jane Watson asking Peter Parker what's next now that Wilson Fisk has been arrested?
This actually ties into the main story for the game, which begins after the Kingpin has already been subdued. There's more of a focus on the events surrounding Spider-Man's exploits beyond the tried and tired story arc involving the Kingpin's rise or establishment of power.
Instead, the trailer introduces a ton of other awesome story threads, including Peter giving gamers a firsthand look at his buddy Miles Morales -- who is Spider-Man in an alternate universe -- and some of the new villains Spider-Man will face off against.
One thing of note about Insomniac's Spider-Man is that the trailer seems to have Mary-Jane in a far more active role this time around, almost working like Lois Lane for Spider-Man. She's featured in a few sequences where she's not only in peril but it also appears as if players might be able to play as Mary-Jane in a few areas, including one scene where she's hiding behind some boxes while the bad guys move around a train station. Could Mary-Jane get a Splinter Cell or Metal Gear Solid moment? Hopefully so.
Now it's not all just cinematics. Some of the most impressive cuts seem to be a mixture of both cut-scenes and in-game play. It's almost impossible to tell one from the other, which could make for some truly awesome gameplay moments.
As far as Spider-Man's behavior is concerned, it looks like he has an awesome array of moves at his disposal, and an equal amount of fisticuffs to dispense on enemies along with his web-shooting abilities.
A couple of clips showcase the eponymous hero running and leaping off ledges, web-slinging onto vehicles, and in one case blasting through one side of the car door and knocking a bad guy out the other side. Again, I have no idea if that was a cinematic sequence or if it was just a cool thing you can actually do in the game.
The focus of the trailer was mostly on life after Fisk, and Peter wanting to live a normal life but still getting drawn back in after several super-villains begin terrorizing the city.
It's hard to tell exactly how big or how expansive Insomniac's Spider-Man game will be when it releases in 2018 for PS4, but one thing is for sure: it appears to be everything we want from a Spider-Man game.
Your Daily Blend of Entertainment News
Staff Writer at CinemaBlend.
Your Daily Blend of Entertainment News
Thank you for signing up to CinemaBlend. You will receive a verification email shortly.
There was a problem. Please refresh the page and try again.