Fortnite Just Revealed A Halloween Fortnitemares Event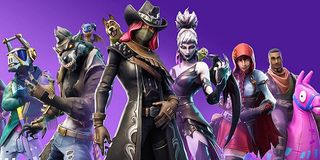 It looks like the Halloween season is only just getting rolling for Epic Games, which sent out a couple of tweets over the weekend teasing an upcoming event it is calling "Fortnitemares." Based on the limited details, it looks like new skins will be in the mix for Fortnite fans, as well as some sort of game mode for duos.
The above tweet teases the upcoming Fortnitemares event, though we can't glean much information from its cryptic message. Another recent tweet boasted a picture of a chained mystery cube and another rhyme, though its description about keeping a steady finger, and the circle closing, just sounds like it's describing a normal round of Battle Royale gameplay.
This latest tweet, on the other hand, features a glimpse at a skin we haven't seen before. It resembles the upgradeable monster hunter female skin that was available as a first tier reward for Season 6. This new one looks like a dude, though, and potentially one who has been corrupted by all of the spooky happenings going on in Fortnite right now.
That message also sounds more like it's describing something new. Such as, potentially, a game of duos where players can be paired with a partner who can turn on them. Depending on the other mechanics at work, a risk/reward struggle revolving around teamwork could be pretty rad.
As folks were quick to point out on social media, it looks like the two tweeted images go together at catty-corner angles to form a square image. If that's the case, it's possible a third image will go live Sunday, with a fourth popping up on Monday. Could that possibly mean a Tuesday launch for the Fortnitemares event?
We're looking forward to seeing how things unfold, and learning more about the Halloween celebration. We're obviously big fans of the way Epic rolls out announcements for Fortnite. These kinds of cryptic tweets are pretty simple, but they go a long way to draw in and unite the community. Also, it's just plain fun to have a game constantly evolving and keeping players guessing like this.
Speaking of busy, the sixth season of Fortnite got rolling a couple of weeks ago and it has been a heck of a lot of fun. Undeterred by the arrival of the formidable Blackout mode in Call of Duty: Black Ops 4, Epic's own battle royale game has been busy with fresh patches, new gear and fun activities spread across a map that continues to evolve.
Already this season, players have gotten to explore a spooky castle and all sorts of other strange occurrences resulting from the game's ever-growing lore. That includes a floating island at the heart of the map, and more surprises are definitely still on the way.
If you've got any guesses as to what Fortnitemares will involve, feel free to drop them into the comments below.
Your Daily Blend of Entertainment News
Staff Writer for CinemaBlend.