Double Fine Retrieves The Rights To Costume Quest, Stacking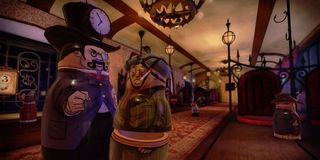 Costume Quest and Stacking sequels are looking a lot more likely today. Developer Double Fine Productions has acquired the publishing and distribution rights to both games from Nordic Games.
"I am pleased that we have regained full control over Costume Quest and Stacking, following a daring and top-secret midnight raid on the Nordic Games headquarters in Vienna," said Double Fine president and CEO Tim Schafer.
Stacking is set in a world inhabited by Russian stacking dolls. The player takes on the role of the smallest doll in the world, Charlie Blackmore, who must free his family from an evil Baron. Charlie can stack inside other dolls to use their distinct abilities in solving puzzles.
In Costume Quest, the player is a child trying to find their sibling on Halloween. They must investigate the neighborhood and complete quests to further their search. In the turn-based battles, they become enormous versions of whatever costume they're wearing. For example, a character dressed up as a robot will transform into a mech.
Double Fine created the two downloadable titles on the side while finishing Brutal Legends. The games were released in 2010 and 2011. When publisher THQ went belly-up, Nordic Games bought the rights in an auction.
On a related note, Nordic and Double Fine have decided to partner up to release Costume Quest and Stacking to retail stores for PC and Mac. The games will hit stores throughout North America and Europe along with Double Fine's Psychonauts in early 2014. Perhaps all three will be bundled together? Either way, this will be the first time that Costume Quest and Stacking will be released in physical form.
"We can't wait to partner with Double Fine for this upcoming retail launch of three of its most excellent games," said Lars Wingefors, owner and CEO of Nordic Games. "However, I feel compelled to point out that we were happy to transfer distribution rights for Costume Quest and Stacking back to Double Fine in an entirely non-secretive and heist-free manner."
If Double Fine ends up making sequels to Costume Quest and Stacking, it won't happen anytime soon. They've already got two projects in development. The studio plans to release point-and-click adventure Broken Age and strategy RPG Massive Chalice sometime next year.
Nordic Games also scooped up the Darksiders, Red Faction, and MX vs. ATV franchises in the THQ auction. The company hasn't announced any plans for their licenses yet, though.
Your Daily Blend of Entertainment News
Staff Writer at CinemaBlend.