Black Friday 2019's Best Gaming Deals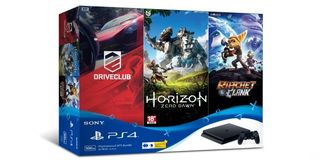 With Black Friday ready to get underway it means that gamers are going to be prepping to find the best deals possible for their favorite game systems and some of the latest games. Obviously, the best part about Black Friday is scouting the best deals possible before the actual day arrives, and if you're here at this article then you obviously want some of the best deals out there.
Console Deals
There are some pretty sexy deals on the home consoles, including an Xbox One X that's available for $100 off the normal MSRP. That's right, you can get an Xbox One X 1TB game console for only $399.99 from over on Walmart (opens in new tab) during Black Friday, marked down from $499. Alternatively, there's a deal page (opens in new tab) for an Xbox One S bundle that comes with NBA 2K19, and Call of Duty: Black Ops 4 along with two controllers, all for just $199.99. Now that's a pretty sexy deal.
The PS4 is also discounted as well, with various bundles made available for just $199, including a PS4 Spider-Man bundle over at Walmart that comes with the system, the game, and a DualShock 4 controller. The retail outlet also has deals on the PlayStation VR bundle, which comes with the game Moss and the Astro Bot Rescue Mission for $299.99 over on the Walmart deal's page (opens in new tab).
Oddly enough Walmart doesn't have any special deals right now for the Nintendo Switch, but Target does. On Black Friday there will be a landing page at Target.com (opens in new tab) in the Nintendo Switch section that will feature a limited time bundle deal for a Nintendo Switch home console, along with Mario Kart 8: Deluxe, all for just $299.99.
Desktop And Laptop Deals
There are a number of big deals set to drop for gaming rigs and laptops alike. You can get some great bundles, customized specials, and discounts on a number of desktops and laptops alike. There's a Black Friday landing page over on iBuyPower's website (opens in new tab), where there are high-end gaming rigs that will be available on Black Friday with i7-8700K computers with 16GB of RAM, a GTX 1070Ti, and an MSI Z370-A PRO motherboard.
There are also discounts on the laptops on the laptop landing page (opens in new tab), where iBuyPower is offering a free gaming mouse with the purchase of any MSI laptops, along with a free loot box. Asus products from iBuyPower will also come with a free gaming mouse and a package of free gifts for a limited time. There will also be gift certificates available for certain purchase during Black Friday.
Alternatively, there will be gaming rigs available for under $999 during CyberPowerPC's Black Friday special. You'll be able to get your hands on desktops or laptops, featuring Windows 10 Home Edition with an i9 CPU, a GTX 1060, 16GB of RAM and 1TB of space for under $2,000. CyberPowerPC is also offering free shipping and anywhere between $200 and $500 off certain purchases.
Components And Accessory Deals
Over on Dell's Black Friday page (opens in new tab), the company is offering 11% off on most of its computers and laptops, along with offering financing for some of the pricier gear. You can get your hands on some Dell monitors, keyboards, and mice, including 4K UHD televisions, 5.1 Dolby Digital surround sound systems, and Alienware display devices.
Over on the Amazon page (opens in new tab), there are discounts for accessories like the Extreme 3D Pro Joystick, which is marked down under $35 for those of you in need of a new flight stick.
Amazon (opens in new tab) also has a discount on internal SSDs for Black Friday, where you can get Samsung 960 EVO 500GB SSD for 38% off the normal price up through Black Friday. So those of you who found yourselves short on PC storage or in need of some extra space, you might want to check out that deal.
Alternatively, if you're looking to replace your current headset and you're looking for a quality setup, Amazon also has a Logitech G430 7.1 DTS available for PC and PS4 with full cupped ear-pads and cushions available at 63% off during Black Friday. You can get the headset for only $29.99 over on the Amazon page (opens in new tab). Best work fast, though, supplies are going to go quick.
Video Card Deals
There are plenty of video cards being discounted during this year's Black Friday sale (opens in new tab). The Newegg Black Friday landing page has a large collection of GPUs that are discounted in price for gamers who will be upgrading their GPU to play the latest and greatest games.
If you're on a budget but you want something that can still play all the latest games at 1080p and 60fps, there's the GTX 1060 (opens in new tab) with 6GB of VRAM for $279.99 after rebates. If that's not cheap enough for you, there's a limited time offer of an Asus Radeon RX 580 (opens in new tab) marked down by 45% off for only $159.99. You'll get to play many top-brand games like The Witcher 3 without breaking your bank.
If you don't feel like going through a middle-man to get your hands on a GPU, you can go directly to the source. Over on the GeForce Black Friday page, there are discounts on the GeForce 770 TF from MSI, along with a GTX 670 that you can get for just $199.99.
Nvidia isn't the only GPU manufacturer with a Black Friday deals page. AMD has a shop page as well set-up for the big holiday shopping season, too. You can get an RX 550 for as low as $95, or a Radeon Pro WX 3100 for just $171. Also, keep your eyes peeled on discounts for the RX 580 and RX Vega cards as well.
Game Deals
During this year's Black Friday sale, there are a variety of high-profile games discounted, including high-profile AAA games such as God of War. There's a $20 discount on the game right now over on the Best Buy Black Friday landing page (opens in new tab) as part of the Black Friday special. Best Buy also has a discount on other PS4 games, including Monster Hunter: World, with the game being available for just $29.99, and classic PS4 exclusives such as Shadow of the Colossus and Uncharted: Lost Legacy, both of which are available for just $19.99.
You can also get your hands on games like Crash Bandicoot N. Sane Trilogy for $25 during Black Friday from Target (opens in new tab). Fans of Farming Simulator will also be in for a treat because it will also be marked down for the Nintendo Switch from $32.99 to $15 during Black Friday over on Target (opens in new tab) as well. Newer games like Lego DC Super Villains will also be available on the Switch for just $30 at both Best Buy (opens in new tab) and Target (opens in new tab), while Mario + Rabbids: Kingdom Battle will be marked down to $25 over at Walmart.
For Xbox gamers you'll find that there are a number of deals, starting with the Xbox Game Pass. Over on the official Xbox website (opens in new tab), there's a Black Friday promotion where you can get your hands on the Xbox Game Pass starting at just $1.
Additionally, if you're an Xbox Live Gold subscriber there are deals over on the Xbox store page (opens in new tab) right now, with discounts for a variety of brand new games anywhere between 10% off and 67% off. Yes, you can get Red Dead Redemption 2: Special Edition for 10% off the normal price as part of the Black Friday sale, while Call of Duty: Black Ops 4 is marked down by 20% off. Assassin's Creed: Odyssey is 35% off, while EA Sports' FIFA 19 is marked down by a massive 50% off. Act fast, though, these deals won't last forever.
Staff Writer at CinemaBlend.
Your Daily Blend of Entertainment News
Thank you for signing up to CinemaBlend. You will receive a verification email shortly.
There was a problem. Please refresh the page and try again.