Street Fighter V Gets Resident Evil Costumes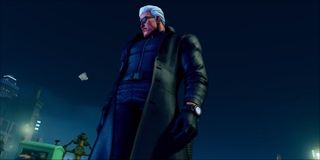 (Image credit: Capcom)
Capcom isn't known for being particularly generous when it comes to free DLC in its games, but that's because the company knows that some of the content that it produces is highly popular and will see fans throwing down lots of money for said content. A perfect example of that is the new DLC pack coming to Street Fighter V featuring the popular costumes worn by the heroes (and villains) from Resident Evil.
Game Informer is reporting that starting November 27th, you'll be able to purchase costumes for Street Fighter V based on the outfits worn by the characters in Resident Evil. Not every character will get the costume treatment, but a few of them will.
For instance, Cammy will get Jill Valentine's iconic S.T.A.R.S, outfit from the original Resident Evil. It surprisingly matches Cammy given that it's similar to what she's already wearing with the beret and the harness, except she's wearing the tactical pants and boots to match.
In one of the more appropriate cosplays within the game, there's the baddie Urien decked out in Wesker's really kick-butt full leather getup from Resident Evil 5. This includes the full trench coat, matching tactical undersuit, and Wesker's iconic rectangular sunglasses.
Kolin is interestingly decked out in Ada Wong's outfit from Resident Evil 6. It's a choice that even made Game Informer question Capcom's decision given that Kolin, as a spy, probably would have been better suited in the red dress that Ada wore from Resident Evil 2. I think an even more appropriate outfit from Ada's wardrobe would be the iconic red dress she wore in Resident Evil 4, but given to Chun-Li. It would be similar but slightly different than Chun-Li's battle dress. Nevertheless, Kolin is given a bob cut and her hat is removed, so you can see her full head. She has on Ada's leather pants, high-heel boots, open red shirt and leather gloves.
However, in some ways, when you see how Kolin fights, you can definitely see why she was given Ada's costume, since her fighting style is very similar to Ada's. Also, it makes sense having Kolin in Ada's outfit given that she works for Urien, and he's decked out in Wesker's clothes, and since Ada oftentimes worked for Wesker, the connection seems to actually track.
It's funny but Cammy actually looks like she could literally appear in Resident Evil and no one would bat an eye. Her design seems to really match the design of Capcom's other popular franchise.
The three outfits will be available for Street Fighter V: Arcade Edition starting at the end of November. Unfortunately Capcom does not reveal how much it will cost players to have to purchase the outfits or if they will be available in a bundle pack.
The outfits arrive just a couple of months ahead of the release of the remake of Resident Evil 2, so if you weren't paying attention or weren't aware of it, Capcom is making sure that players across its franchises are being made aware. I'm a little shocked there weren't Resident Evil items added to Monster Hunter World. Anyway, Street Fighter V: Arcade Edition is available right now for PS4 and PC.
Staff Writer at CinemaBlend.
Your Daily Blend of Entertainment News
Thank you for signing up to CinemaBlend. You will receive a verification email shortly.
There was a problem. Please refresh the page and try again.