Aquaman Movie DLC Is Coming To LEGO DC Super Villains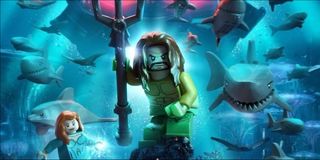 (Image credit: Warner Bros)
Including Aquaman in recent DC-themed video games was something that was bound to happen sooner or later given that the new movie is set to hit theaters. Warner Bros. and the Lego group announced that there will be themed DLC based on the movie making its way into LEGO DC Super Villains.
In the press release Warner Bros. Interactive Entertainment announced that there will be two DLC movie packs based on the upcoming Aquaman movie for LEGO DC Super Villains, which is currently available on PS4, Xbox One, Nintendo Switch and on Steam for PC. The two packs will contain new levels and characters from the DC Universe based on those that appear in the film, which is due to drop into theaters starting December 21st, while tickets have already gone on sale at places like Fandango.
The content packs will not be free, though. If you hold a Season Pass for the game you won't have to pay anything, but if you don't have a Season Pass then you'll have to pony up $5.99 for both packs, which will be available starting in December. Now if you don't have a Season Pass but you want to get one for all of the post-launch content that TT Games and Warner Bros., have planned for LEGO DC Super Villains, you can grab a copy for $14.99. This will grant you access to the two Aquaman movie DLC packs, along with several other packs that have not been announced yet. In total, the Season Pass will allow you access to six DLC level packs and four character packs, so in total you'll have 10 pieces of new content to enjoy in LEGO DC Super Villains.
The first of the Aquaman movie packs will launch in early December, while the second part will be available for gamers (either through the Season Pass or available for purchase piecemeal from the digital store) starting January 8th, 2019.
The first movie pack will feature Aquaman in his Gladiator outfit, Black Manta, Mera, King Nereus Orm in his Gladiator outfit, and Queen Atlanna, all joining the already massive cast of characters in the game, which features more than 150 DC characters. The second DLC pack will feature Aquaman in his movie costume played by Jason Momoa, Vulko, Trench Creature, Murk, Brine King, and the movie version of Orm. So, you'll be able to experience some of the cinematic prestige from the movie, captured in Lego form within the game.
And speaking of the game, LEGO DC Super Villains is a little bit of a crossover between Justice League: Crisis on Two Earths and South Park: The Fractured But Whole. The Justice Syndicate end up taking control of Earth after dispensing of the original Justice League, but the Justice Syndicate is made up of top super villains from another dimension. Earth ends up falling prey to their machinations and with the original Justice League out of the picture, it's left up to the remaining, old-school super villains to become the heroes.
Players come into the picture as a custom hero -- err, villain -- who must join up with other classic villains such as The Joker, Harley Quinn, and Lex Luthor in order to take down the Crime Syndicate and maybe, potentially, save the Justice League. How the movie versions of Aquaman characters fit into the story remains to be seen, but you'll be able to get in on the action with the new DLC starting in December.
Staff Writer at CinemaBlend.