Marvel Avengers Academy Is Shutting Down Almost Immediately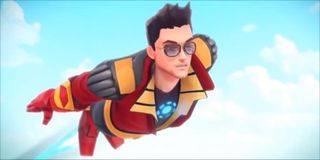 (Image credit: TinyCo)
Not every mobile game is a smash hit. Sometimes some titles pop onto the market, make a splash, and then sink to the bottom of the ocean. TinyCo's Marvel Avengers Academy ended up being one of those games, and now it's basically shutting down on all available platforms almost immediately.
Variety is reporting that TinyCo made the announcement via an in-game message to players, titled "It's Graduation Day, True Believers." The message states that Marvel Avengers Academy will shut down by the end of 2018 on all platforms, including iOS tablets and phones, as well as Android smart devices. TinyCo also made it known that there will no longer be any purchases accepted on behalf of the game to acquire new items, characters, or goods, and that purchases and new downloads for Marvel Avengers Academy have come to cessation.
This means that if you didn't download the game, or did not have it on your device, you are unable to do so from this moment onward. Anyone who already had the game downloaded can still access the game and will be able to do so up until February 4th, 2019, when the servers will be shut down for good. So if you missed out on the game before, you won't be able to play it at any point now or again from the iTunes App Store or Google Play store.
TinyCo, however, was nice enough to give all existing players 2500 in-game shards to spend on missions, quests, and other items. Think of it as a final goodwill gesture so you can complete any other lingering tasks on your mission queue before the doors close for good on the digital academy.
The game originally launched for iOS and Android devices back in 2016. As noted by Variety, it was a big enough project for Marvel Entertainment that some Hollywood heavyweights like Alison Brie and Dave Franco even lent their voices to the characters in the game. It's not often you can get celebrities to hunker down and voice characters for a mobile title.
The game itself is more of an isometric strategy game. You recruit popular Marvel super heroes such as Captain America, Wasp, Loki, Black Widow, and Iron Man from when they were teenagers and bring them to the academy. There, you're given tasks to help train them as well as partake in leisure activities while they prep to get strong enough to eventually face off against Hydra from the Captain America films.
The isometric strategy game is more like a giant training simulator, and seems like it would have been better suited for an X-Men title, but nevertheless it found a small audience in the mobile space during its initial launch. However, the playerbase quickly whittled down and eventually it was no longer as successful as Marvel or TinyCo hoped.
The developers are unlikely to go away anytime soon, though. TinyCo's parent company, JamCity, recently signed a pretty big deal with Disney to make a number of games based on existing and upcoming Disney Animation properties -- including Frozen 2, which is due out late next year. So TinyCo is likely going to be moved over to those other games. As noted in the article, JamCity managed to make waves in the mobile space with Harry Potter: Hogwarts Mystery, which generated tens of millions of dollars since its release. So now that the studio has found a formula for success, expect to see it repeated as JamCity tackles more Disney projects following the closure of Marvel Avengers Academy.
Your Daily Blend of Entertainment News
Staff Writer at CinemaBlend.