Halloween Is Coming To Harry Potter: Hogwarts Mystery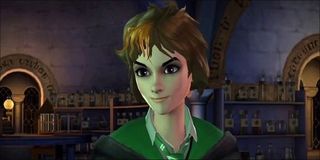 (Image credit: Warner Bros)
Harry Potter: Hogwarts Mystery came onto the scene courtesy of Jam City and Portkey Games, the latter of which is a subsidiary of Warner Bros. Interactive Entertainment. The title is an adventure-mystery game of sorts, and it will be diving deep into the Halloween spirit this month.
According to Warner Bros., players will engage in an original Halloween tale that will take Harry Potter: Hogwarts Mystery by storm. The in-game environments will get a spooky makeover in order to fully indulge in the festive Halloween spirit. This includes pumpkins and décor lining the Great Hall, along with various ghosts roaming about for the annual event.
In addition to overhauling the livery of certain locations within the Hogwarts academy, there's also the accompaniment of a brand new storyline for players to unravel that will only take place during Halloween. It's a time-sensitive event so you'll have to work fast in completing the side-quest that will get underway during the middle of October. There will be "dark forces" invading the grounds, which will require players to sift through their big bag of magic tricks and pull out their most powerful abilities in order to overcome the evil that attempts to overrun the school.
But wait, there's even more! In addition to the new Halloween event, there's also a brand new Dueling Club event that is being added to the game, where players will need to battle it out against other opponents to win some spiffy rewards. The duels have also taken on a new flavor thanks to the magic abilities enabling players to turn the heads of their opponents into pumpkins. It's a temporary effect but you'll definitely know who lost a duel when you see that they've been given a giant glowing pumpkin head after going head-to-head with another wizard in the event.
Jam City isn't content with just a few activities and quests, though. The developers want to take the residents of Hogwarts through a very chilling set of encounters throughout all of October, some of which will rely on spooky fun while others will be more fear-oriented.
The developers didn't give away every single little detail surrounding the Halloween events for Harry Potter: Hogwarts Mystery, but the activities will span the entire breadth of the month.
This is one of the several Harry Potter games that have come to the market in recent years. There's also an action-RPG on the horizon and another augmented reality game set to release in 2019 that's in development by Niantic Labs... yes, the same Niantic Labs who has worked on the Pokemon Go game for mobile devices.
At the moment you can get your hands on Harry Potter: Hogwarts Mystery for smartphones and tablets right now. The game allows you to create your very own wizard and develop friendships and rivalries at Hogwarts while also building out an impressive stash of magical abilities.
You can download the app for free by either visiting the official website, or by grabbing a digital copy from the Google Play or iTunes App Store.
Staff Writer at CinemaBlend.
Your Daily Blend of Entertainment News
Thank you for signing up to CinemaBlend. You will receive a verification email shortly.
There was a problem. Please refresh the page and try again.