Super Smash Bros. Ultimate Accused Of Using Racist Stereotypes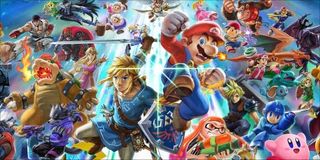 (Image credit: Nintendo)
Some gamers are taking issue with certain pairings in Super Smash Bros. Ultimate's World of Light mode, accusing Nintendo of using racist imagery. It all started after a couple of gamers came across the fighter/Spirit match-ups in the single-player mode and then broadcast the findings online.
There's a thread over on ResetEra titled "Racist Stereotypes in Smash Bros. Ultimates Spirits Mode." The user Primethius claims that after going through the game looking for the lack of representation in the title, he came across something that he claims was "incredibly... suspect." According to Primethius, three of the pairings in the World of Light adventure mode within Super Smash Bros. Ultimate could be considered racist. He stated that the game had "little to no diversity" and that it contained "problematic elements" and "racist stereotypes."
This included pointing to several tweets from users on Twitter who originally shared the pairings, including the character Tac from Kirby being paired with a brown-skinned Villager from Animal Crossing.
While the user on ResetEra suggested that the pairing of speedy thief Tac with a brown Villager from Animal Crossing could be considered racist, the tweet from The_Infinite1 is actually a joke. Further down the thread, the user notes that he tweeted it out as a joke and didn't intend for people to take it as an implicit indication of racism in Super Smash Bros. Ultimate. Another user, Daleks vs Dinosaurs, also clarified that the reason the Villager is brown when paired with Tac is because in Kirby Super Star Ultra, Tac is brown.
There was also a second tweet that Primethius referenced in the post from user KelThaFunkee. The tweet features the Spirits Dee Jay and Mr. Sandman being paired with Diddy Kong and Donkey Kong.
Those Spirit pairings were viewed, to some, as using racist stereotypes. However, different characters are paired with different Spirits all throughout the World of Light mode. There are hundreds of different pairings throughout the mode, with Diddy Kong and Donkey Kong paired up with a bunch of different Spirits all throughout the mode as players face off against them in a multitude of different match-ups.
Further down the thread, others pointed out to KelThaFunkee that a number of black Spirits in the game appear with a wide variety of characters, including Doc Louis with Little Joe, who later becomes an integral part of the mode where you can freely level-up your Spirits at Doc Louis' gym once you defeat him. There's also Twintelle from ARMS who teams up with Bayonetta, which is just a few of the many combinations in the game.
While the thread from Primethius garnered alarms from some users, proclaiming that Nintendo needed to address the situation, other users -- later on in the thread -- came in to assuage the concerns and explain that there are Primary and Support Spirits featured all throughout the World of Light mode in Super Smash Bros. Ultimate. A variety of characters team up with other fighters from a number of different games. The Spirits usually work in conjunction with mutators that give players different challenges to overcome. As pointed out by some of the other users in the ResetEra thread, a lot of the match-ups in Spirits to characters come from some history between the characters or in relation to the theme of that area. For instance, Mr. Sandman and Donkey Kong both come from the Punch-Out!! series and both are bosses from the Punch-Out!! games.
Even still, some people have requested for Nintendo to change the pairings, while others have stated that it's not all that important. If Nintendo did change the pairings it would completely change how or where players unlock certain spirits. The World of Light mode is finely balanced where unlocking specific Spirits in certain areas allow you to unlock other areas of the map, or defeat certain other Spirit match-ups. Nintendo would have to reevaluate various parts of the map to change up the pairings. So far the company hasn't said anything about the complaints brought up in the ResetEra thread.
Staff Writer at CinemaBlend.
Your Daily Blend of Entertainment News
Thank you for signing up to CinemaBlend. You will receive a verification email shortly.
There was a problem. Please refresh the page and try again.