Jackbox Party Pack Is Free On The Epic Games Store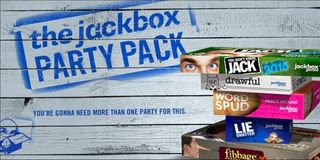 (Image credit: Jackbox Games)
The competition between Steam and the Epic Games Store continues to ramp up, this time with Epic Games attempting to lure gamers in with some free games to keep them coming back for more. In this particular case the free game being given away is the Jackbox Party Pack, which you can grab for a limited time at no cost whatsoever.
The news comes courtesy of an update over on the Epic Games Store, where there's an announcement that you'll be able to get your hands on the original Jackbox Party Pack for free on PC by registering an account to make use of the Epic Games Store, and then heading to the Jackbox Party Pack store page and downloading the game to have it added to your software library for free.
You'll need to make quick work of the offer, though. This deal won't be available forever. You'll have up until 11:59 p.m. Eastern Standard Time on February 7th to get your hands on the game. And, unlike the free weekends on Steam or Xbox Live, the game is yours to keep for as long as you have an Epic Games Store account.
As part of the store's nascence into the digital distribution market, Epic Games decided to offer gamers free games for the first year of the store's operation. So, every two weeks a new free game will be added to the list all the way up until the end of 2019.
During the initial launch of the store gamers were able to get their hands on Subnautica, the underwater exploration game from Unknown Worlds. The game was already highly popular when it was released into Steam Early Access years before. Epic needed something fun and worthwhile to get heads turning and paying attention to the Epic Games Store.
This was followed up with the availability of Super Meat Boy, which was also given away for free for two weeks as well. The game originally came out way back in 2010, and eventually made its way across various game consoles and platforms.
Epic seems to be mixing up the sort of games offered on the platform and showcasing the limited variety of games currently available. It's a pretty big leap to go from Subnautica which is a survival simulator, to a hardcore platformer like Super Meat Boy, to a multiplayer party game like the Jackbox Party Pack.
Obviously, this is to get a wide canvas over a number of different market demographics. People who like Subnautica are also typically going to be interested in other survival simulators like DayZ or Rust, and so long as Epic can, at some point, deliver those games more people might check out the store.
People who like Super Meat Boy are likely going to be fans of platforms like Super Mario Bros., or Freedom Planet. If Epic starts offering more platformers and side-scrollers, more of those gamers might be lured onto the platform.
And, finally, for gamers who enjoy casual games and party games like Jackbox Party Pack, Epic might be able to bring in more of those kind of gamers by offering up more board games and tabletop-style titles to further expand its reach. If you happen to be one of those gamers, you can grab the free offering of the Jackbox Party Pack right now.
Staff Writer at CinemaBlend.
Your Daily Blend of Entertainment News
Thank you for signing up to CinemaBlend. You will receive a verification email shortly.
There was a problem. Please refresh the page and try again.