February's Games With Gold Includes Assassin's Creed And Star Wars Titles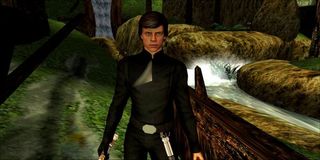 (Image credit: Disney)
It's already that time of the month where Microsoft is rolling out info on the free Games With Gold that come with an active Xbox Live subscription. The offerings for February have been outlined and it includes some classic Assassin's Creed and Star Wars titles to help fill out your digital software library.
Over on the Major Nelson blog there's an outline for what will be available and when. It starts with Bloodstained: Curse of the Moon on the Xbox One between February 1st and February 28th. While Super Bomberman R for the Xbox One will be available between February 16th and March 15th.
For the Xbox 360, Assassin's Creed Rogue will be free from February 1st to February 15th. From February 15th to February 28th, Star Wars: Jedi Academy for the OG Xbox will be available.
Keep in mind that both Xbox titles are also backwards compatible so you can play them on the Xbox One. This is real good news for people who probably didn't know about Star Wars: Jedi Academy because it's one of the best Star Wars games ever made. It features some really impressive lightsaber mechanics and was one of the few games that featured built-in lightsaber dismemberment, meaning that depending on where you attacked someone it could sever that body part. This made lightsaber duels far more interesting than typical games because one or two hits would instantly end the fight, so parrying, dodging, blocking, and using fancy evasive techniques to avoid being killed were even more important. It also used to have a rather small but dedicated online multiplayer community that competed in duels across famous locations from the popular space-fantasy series.
You'll now be able to check the game out on the Xbox One, with all of the latest enhancements offered by the newer hardware tech.
Gamers will also be able to take a stroll through one of the most underrated Assassin's Creed games to come out last generation. Rogue was a highly underrated entry in the series, but had one of the more compelling stories and a combination of all of the features from previous games combined into one outing.
The game sported the naval travel from Assassin's Creed IV: Black Flag, but with all the hunting, and mechanics that were present in Assassin's Creed III, along with both gun and sword-based combat, so players were given a wide range of ways to take down foes.
Sadly the Xbox One offerings look a little thin compared to the Xbox 360 and OG Xbox offerings. However, if you're into 8-bit side-scrollers you might enjoy Bloodstained: Curse of the Moon, since it's the precursor to the upcoming Bloodstained: Ritual of the Night, which is the original Kickstarted game set to come out for home consoles and PC platforms later in the year.
Super Bomberman R originally came out back in 2017 for the Nintendo Switch, PS4, Xbox One, and PC. It was a throwback to the older Super Bomberman games that were widely popular during the 16-bit era on the SNES, only the new game is in full 3D, and offers gamers some of the latest in tech afforded by today's generation of systems. If you missed out on the game before it might be worth checking out for free when it becomes available in February via Games With Gold.
Your Daily Blend of Entertainment News
Staff Writer at CinemaBlend.