Quantic Dream Is Finally Going Multi-Platform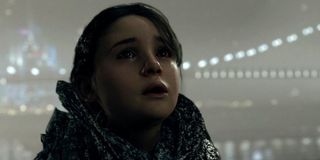 (Image credit: Quantic Dream)
After more than a decade working exclusively under Sony's publishing wing to make games specifically for the PlayStation 3 and the PlayStation 4, French gaming studio Quantic Dream has announced that it's finally going multi-platform after signing a deal with an unlikely publisher.
Gamespot is reporting that NetEase has stepped in to finance Quantic Dream's projects from here on. The Chinese publisher is known for a number of free-to-play MMORPGs for PC and mobile devices, including Chrono Blade and Revelation Online, along with a number of other licensed games from other studios such as the Chinese release of StarCraft II and World of Warcraft.
Under NetEase's publishing wing, the company will control a minority stake in the French developer, which will now no longer be beholden to producing exclusives for the PlayStation platform under Sony. The article points out that Quantic Dream is already working on new engine technology with cross-platform support, which means that the next title that the company produces will be multi-platform.
Now according to studio head David Cage, Quantic Dream will continue to push boundaries and set examples by making the games that the company has always been known to make. In fact, it was Detroit: Become Human that prompted NetEase to reach out to establish a business partnership with Quantic Dream. The president of NetEase was so taken aback by Detroit that he made everyone in the studio play the game because he found it to be so profound.
It's interesting that NetEase would even want to dabble in the AAA dramatic-story direction when it comes to producing games, especially since the company just recently signed deals to produce an unnamed title from Bungie, along with partnering with Blizzard Entertainment for the mobile release of Diablo: Immortal, the controversial game that swarmed headlines during its reveal last year at BlizzCon.
Most people aren't familiar with NetEase's library of games outside of publishing free-to-play titles or mobile cash shop games, so it will be interesting to see how people react to a game being published by NetEase for home consoles.
As for Quantic Dream... the founders and studio heads aren't saying exactly what the new projects are, but one of them is obviously large enough that the development team has had to expand from 150 heads in order to accommodate the scope of the new project. The new technology that the studio is working on is also cross-platform compatible with Xbox, Nintendo, and PlayStation game systems, but it's not made clear if the engine will specifically accommodate the current eighth generation home consoles or if the team is scaling it for the next generation of home consoles.
The outfit has definitely found a niche within the choose-your-own-adventure style genre dating back to Indigo Prophecy for the PS2 and OG Xbox. Quantic Dream managed to acquire quite the fame and adulation for other outings such as Heavy Rain and Beyond: Two Souls. Now that Detroit: Become Human has finalized the company's exclusivity commitment to Sony, we'll see what the French gaming studio is capable of working on a multi-platform title under NetEase.
Staff Writer at CinemaBlend.
Your Daily Blend of Entertainment News
Thank you for signing up to CinemaBlend. You will receive a verification email shortly.
There was a problem. Please refresh the page and try again.