ARK: Survival Evolved Hits Xbox One In Just A Few Days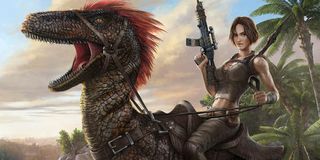 ARK: Survival Evolved will be arriving on Xbox One next week. Studio Wildcard's multiplayer survival game will launch on the console with a few exclusive extras.
In ARK: Survival Evolved, players are stranded on a mysterious island (the titular "ARK"). These naked men and women must gather resources and use them to craft hunting tools and shelter. Once they've found ways to meet their basic needs, they can start researching more advanced technologies. The island is home to dinosaurs and other creatives that they can hunt or tame. Other players can either help you take down the island's most powerful beasts...or maybe they'll just kill you and steal your stuff.
The game debuted on Steam in June 2015. While Steam is filled with other competing survival games like DayZ and Rust, ARK has managed to attract a lot of players. It's been consistently on the top sellers list for Steam through the summer and fall, thanks in part to the frequent updates by the developers. People really like killing dinosaurs, too.
The Xbox One version of ARK will debut on December 16th with all of the content of the current PC build, which has been steadily growing since its initial launch on PC. Xbox One owners can also look forward to exclusive content such as a bionic T-Rex along with a Safari Hat and Survivor's Trophy. Additional XB1-only content will be added to the game over time.
ARK is available through through the Xbox Game Preview, the Xbox One equivalent Steam Early Access. Xbox One players can purchase it for $34.99 even though it's still in-development and get access to future updates for no additional charge. Previous Xbox Game Preview releases like Elite: Dangerous and Sheltered also offer free trials so presumably the same will be true of ARK.
Studio Wildcard plans to officially launch the game on Xbox One, PC and PS4 in June 2016. The PS4 edition of the game will support PlayStation VR, that console's virtual reality headset.
Staff Writer at CinemaBlend.
Your Daily Blend of Entertainment News
Thank you for signing up to CinemaBlend. You will receive a verification email shortly.
There was a problem. Please refresh the page and try again.