Ace Attorney 5 DLC Includes Costumes, New Case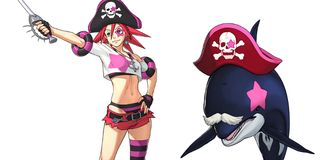 Capcom plans to follow up Ace Attorney: Dual Destinies (a.k.a. Ace Attorney 5) with several pieces of downloadable content. The first images and details were released recently through Capcom Japan's website (via Siliconera).
The first scheduled DLC, available on the Japanese launch date of July 25th, provides three costumes. The first is Phoenix Wright's classic blue suit from the original trilogy. The second is casual wear for his compatriot Apollo Justice. Athena, Wright's new assistant, will get a schoolgirl outfit - could be worse, I guess.
The costume DLC will be free from launch until August 15th. It'll cost 150 yen after that point. The costumes really ought to be free because they're costumes and affect the game in no meaningful way but hey, that's microtransactions for you.
Dual Destinies' next DLC is a multi-part quiz set at Phoenix Wright's office. The preface to this quiz is included in the base game and will be available after you complete the first case in the campaign. The other three parts will be released on August 1st, August 8th and August 15th. Each will cost 150 yen. By completing the quiz, you'll unlock "rare costumes."
The third and final DLC that Capcom announced was an entirely new case. The case is called "Special Chapter: Turnabout Return." It takes place between Dual Destinies and previous game Apollo Justice: Ace Attorney. The DLC chronicles Phoenix's first case since returning to law. Phoenix have his work cut out for him. He's tasked with defending an orca against a murder charge. The female pirate depicted in the screenshots is the orca's trainer.
Capcom hasn't announced this downloadable content for North America and Europe. I can't imagine they wouldn't localize these add-ons, though, after going through all of the trouble of localizing the full game. Obviously the costumes don't matter at all to me but I'm hoping they at least bring the new case to the West.
Dual Destinies is the first game starring Phoenix Wright since the original trilogy. It takes place a year after Apollo Justice. Apollo will also return as a playable character. Together they'll solve a series of over-the-top cases, one of which will blow up the old courtroom. New gameplay mechanics will allow players to sense the emotions of witnesses to help sense when they're lying. A new "Thought Route" and backlog will make it easier for players to review the facts of the current case and put together the mysteries. Look for the game to hit Europe and North America this fall exclusively on the 3DS.
Image 1 of 2
Your Daily Blend of Entertainment News
Staff Writer at CinemaBlend.