Age Of Conan Prepares For Secrets Of Dragon's Spine DLC Series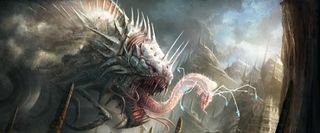 Age of Conan: Unchained is expanding with "Secrets of Dragon's Spine," a series of DLC that will add all new regions, quests, enemies and more to Funcom's massively multiplayer online role-playing universe set in the world of the infamous late-night television host. It's that Conan, right?
But seriously, Age of Conan is still going strong, apparently, and the developers want to keep high level players interested with this upcoming series of content additions, the first of which is due out in "the next few months."
Secrets of Dragon's Spine offers all new Hyborian experiences set in a vast, lifeless desert. Several structures remain to be explored, as well as a small oasis and the Palace of Cetriss. The desert itself is also home to vast caves and tunnels, all housing new adventures and loot for the barbarian looking for a little adventure.
According to Creative Director Craig Morrison, the Dragon Spine expansion offers content pulled from some of the most exciting backstories in Conan lore.
"Our version of Hyboria has grown into a vast online world since we launched back in 2008," Morrison said. "With the Secrets of Dragon's Spine update we are moving into an incredibly exciting part of Robert E. Howard's work, and I think both Age of Conan players and fans of Howard's work alike will find a lot to enjoy once they get to explore this new content."
That's basically all of the details Funcom has offered so far. No word yet on a price for the expansion, or if it will come at a piece meal payment plan for each new chunk of Dragon's Spine that gets released. We don't even know how many releases the full Dragon's Spine experience will include or how frequently they will roll out. All we know is that it's coming, and likely by the end of the year. So, you know, just try and show a little patience moving forward and we should all do just fine.
Your Daily Blend of Entertainment News
Staff Writer for CinemaBlend.