Age Of Empires Online Shuts Down While GFWL Lives On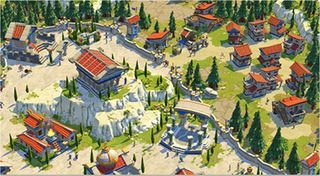 Microsoft has rolled out plenty of different services and ideas surrounding digital consumption, but not all of them have panned out. One of those ideas happened to be the free-to-play MMO Age of Empires Online and one of those services happened to be Games For Windows Live. Both were pretty much panned by the gaming community but only one is biting the dust for good.
Segment Next does a brief write-up (or eulogy) for Age of Empires Online since it's shutting down today, July 1st.
We had known about Age of Empires Online shutting down since last year, when it was made present on the game's website, which also included a tidbit about Games for Windows Live shutting down, too.
However, Microsoft had the page amended in regards to Age of Empires Online, only mentioning that the game would be closing down for good but they truncated any mention about their DRM service biting the dust.
After a year of speculation, various game companies moving off the GFWL service and lots of anticipation about how the shutdown would effect games that weren't patched, Microsoft finally came onto the scene to briefly discuss the status of Games for Windows Live (only after being pursued for a quote by Game Informer), where they stated the following...
Of course, there was no mention about games that stopped working on GFWL or whether or not the service would be patched to fix some of the broken DLC codes for other titles... that was it. That was all.
The service will live on for the most part as a DRM shell for games that haven't been patched off of it. However, there presumably won't be any newer games making use of the service since games can no longer be bought from the Games for Windows Marketplace and there have been reports about a lack of new keys being distributed for select titles. No one really knows what the exact status of GFWL will be in the near future or if Microsoft actually has plans to do anything with it.
For now, we do know that Age of Empires Online – a game that was ridiculed for poor design and playability – is no more. The company has pulled the plug on the title after it had only been in service since 2011.
If you visit the official Age of Empires Online website you'll notice that there's no further updates, no more blogs, news or forum activity. In fact, the site hasn't been updated since late 2013.
I imagine it won't be long before the website sputters and completely goes dark. Is it even worth saying "it was good while it lasted"? Because a lot of fans just didn't seem to think so.
Staff Writer at CinemaBlend.
Your Daily Blend of Entertainment News
Thank you for signing up to CinemaBlend. You will receive a verification email shortly.
There was a problem. Please refresh the page and try again.