Alien: Isolation Has Gone Gold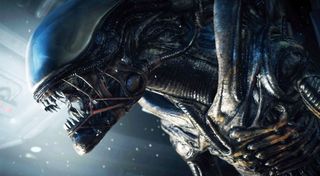 Sega and Creative Assembly have sent out word that Alien: Isolation has gone gold. This means that the game's core development is complete and that the studio has prepped the game to arrive through participating distributors for the Xbox One, Xbox 360, PS3, PS4 and PC.
This is a horror game the likes of which many console gamers haven't played in some time (I would say PC gamers, but the emergent horror genre has been growing and thriving over the past couple of years; and it's alive and well.) Imagine the concepts of Outlast but with the difficulty cranked up to 11.
As mentioned in the press release...
Hands-on previews for the game from various gaming enthusiasts have all mentioned how difficult and challenging the title is. It's not just another hide-and-seek horror title with a predictable, reactive A.I., system; no. Creative Assembly decided to go over and beyond to make an adaptive, responsive opponent the likes of which gamers have not encountered since... well I can't think of any games quite like this off the top of my head.
You can see it in action with the brief teaser trailer below showing what happens when you aren't being completely careful.
The game's atmosphere is pretty freaking awesome – it's been designed around the 1979 feel of the Ridley Scott film, Alien. The look, the aesthetic, the lighting and the visual post-processing have all been tailored around setting the tone to mimic that of the iconic horror-thriller.
Given Alien: Isolation's early positive praise and moderate marketing hype, it's possible the game could be the sleeper hit that both Sega and Creative Assembly need to really get some momentum going for a potential long tail-end.
The lack of focus on first-person action and a reliance on first-person critical thinking gives the game a bit of a different edge than something such as Aliens: Colonial Marines.
This is not to say that players won't have access to weapons (because they will) it's just that relying on weapons won't get you very far, especially considering how fast the alien can move and how strong it will pursue and antagonize you.
Players will be able to hide throughout the map, including but not limited to using objects and movement to stay hidden from the alien, as well as utilizing furniture or lockers to get out of sight. I imagine this will be a popular game to see on YouTube with the Let's Play movement; it's ripe for the exploitation.
You can look for the game to launch on October 7th for the older gen and new gen consoles, as well as PC. Need more info? Feel free to visit the official website.
Staff Writer at CinemaBlend.