Arma 3 Survive DLC Launching On Halloween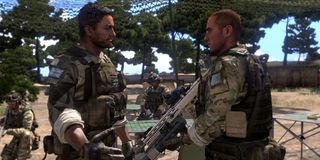 Arma 3 players will be getting some free single-player DLC on October 31st. "Survive," the first of three episodes, will put players in the shoes of a NATO soldier serving on the Aegean islands of Altis and Stratis.
"Our first campaign episode, 'Survive', introduces players to Ben Kerry, a regular soldier who's part of a NATO peacekeeping mission in the Mediterranean," says Arma 3 creative director Jay Crowe. "Following a couple of years of uneasy cease-fire, this US-led deployment is now in the process of a staged drawdown. The vacuum left by withdrawing forces is being rapidly filled by the opposing CSAT faction, creating the conditions for, one might say, a flashpoint."
Bohemia Interactive released the alpha and beta versions of Arma 3 to pre-purchase customers earlier this year. Maintaining that public test while also developing the full game proved too time-consuming for them, so they decided to release the campaign as free DLC after the game's September launch. The reasoning behind this move is that it would allow Bohemia to polish up the campaign to a greater extent before putting it in player's hands. The second and third campaign episodes, "Adapt" and "Win," will be released in the coming months.
"After talking a lot about a focus on quality over the last year, it simply did not feel right to compromise now," Bohemia said in August. "Rather than pushing back the entire game, we launch this year with an awesome package – a splendid kick off for the Arma 3 experience."
Arma 3 shipped with a collection of single-player missions along with multiplayer scenarios and training challenges. The launch build also included a scenario editor and modding support. "Survive" provides additional content for the modders to use in their creations. Amateur builders can look forward to new weapons, animations and more. "Adapt" and "Win" will add vehicles and other assets to the mix.
Bohemia released Arma 3 on the PC on September 12th. The game's available in two flavors, standard and digital deluxe. The digital deluxe package, priced at $64.99 instead of $59.99, includes digital maps, a tactical guide and the soundtrack. It also gives you a free copy of Arma: Cold War Assault.
Image 1 of 3